What's a year in the life of a tiny farm look like? Well, something like this!
Swipe or use mouse to move around!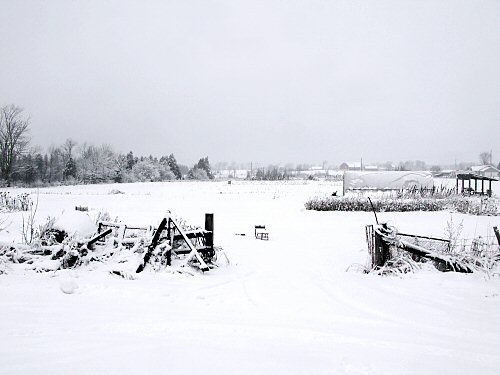 Around here, we have WINTER. As you can see, the snow is definitively where the outdoor growing season ends, so we wait for it to end so we can begin once again...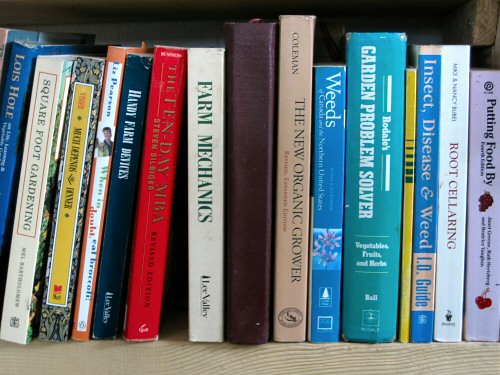 The new season of growing in the field starts indoors, with new plans, poring over seed catalogs, various paperwork, catching up on reading (research!). Paper, pencil and eraser are your friends! A PC and Internet connection also help immensely.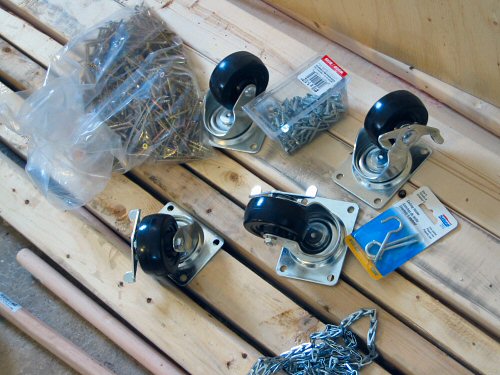 Winter is also a time for building and repair. Here we have all the materials for a small carpentry project with a big result, assembling a new growing rack for seedling production.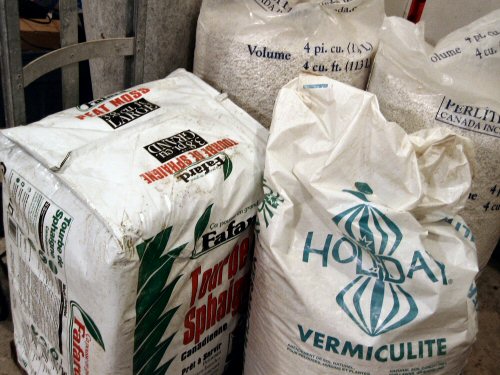 Getting set up for seedlings from scratch means mixing your own seedling mix, like this soil-less mix of equal parts of vermiculite, perlite, and a peat.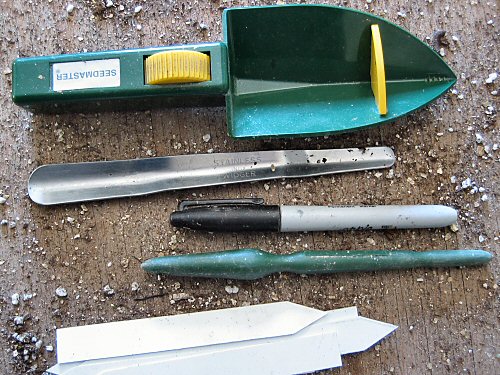 Seed-starting tools: for seeding into plug sheets, a few basic tools get the job done. Fingers are the engine...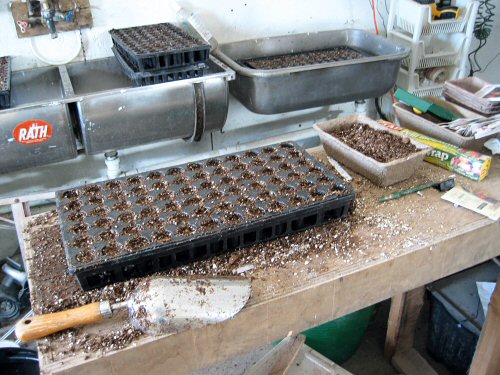 Plug sheets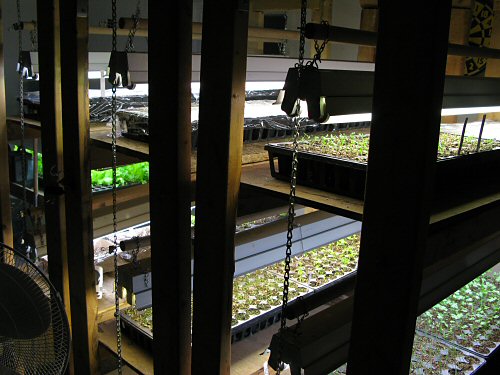 DIY light racks are a flexible, inexpensive, totally basic way to produce quite a quantity of seedlings in a small space, with low electricity consumption.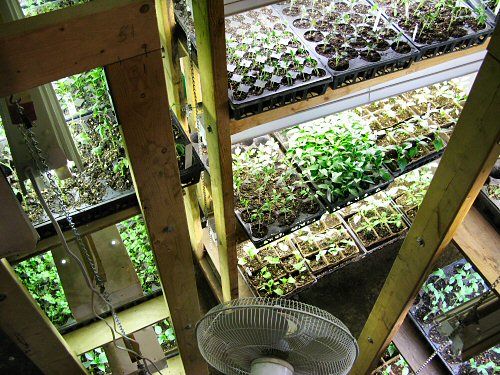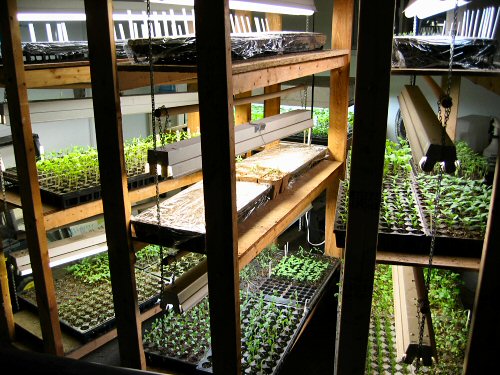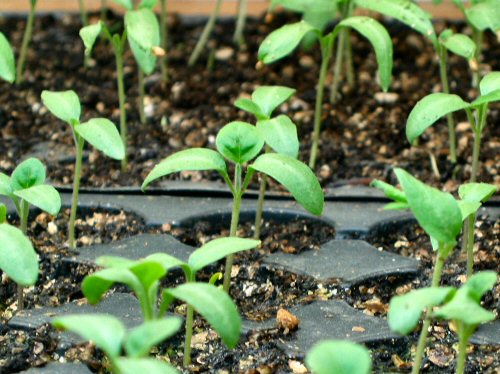 Pepper seedlings showing their first true leaves. Seedlings emerge with one or two plain seed leaves (our common garden vegetables have two), followed by the more distinctive true leaves, particular to the crop.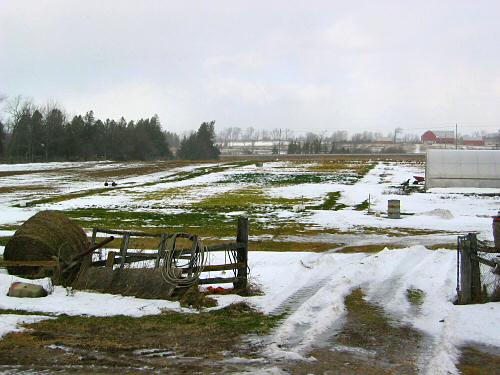 Waiting for the weather. The snow melts, the ensuing muddy field dries out...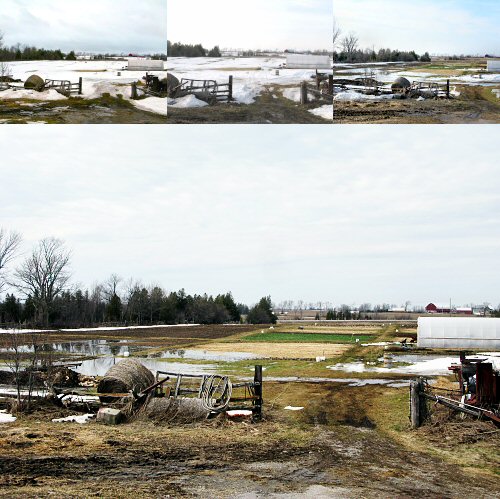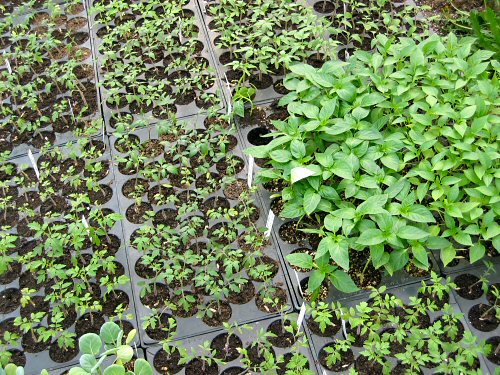 Seedlings! A couple of weeks or a little more to transplant size.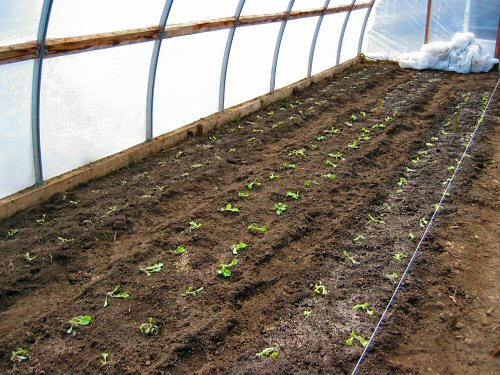 Early crops in the unheated hoophouse can beat the outdoor conditions by weeks.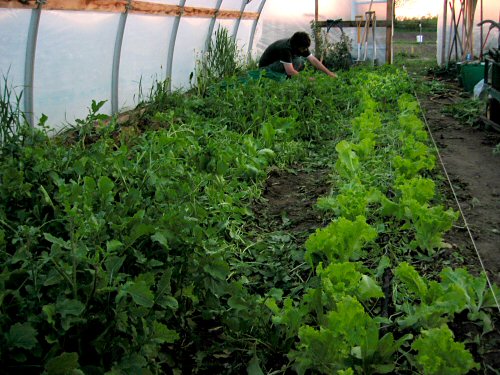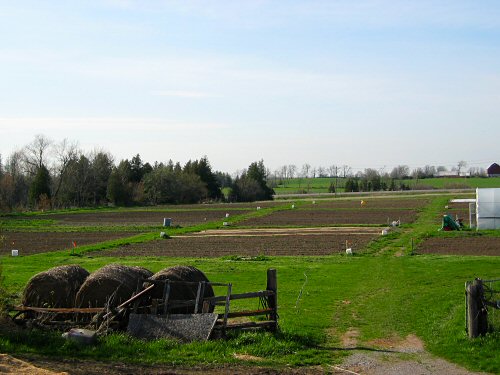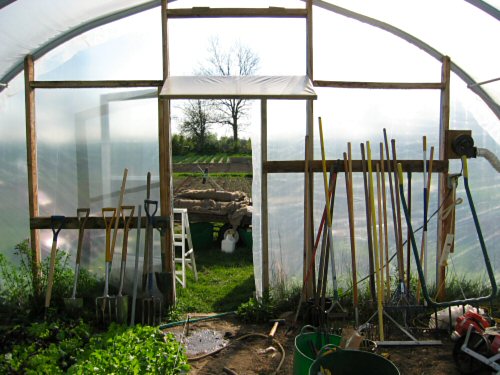 Hand tools! A variety of hoes, forks, and rakes, mainly. The right tool for the job makes all the difference.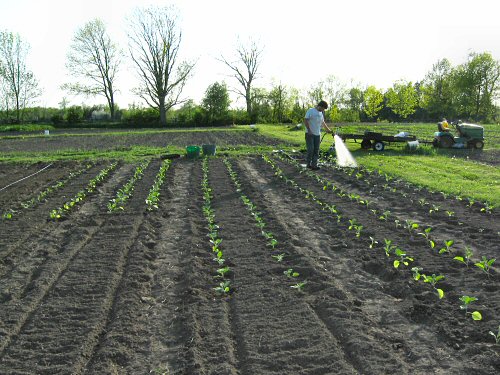 Watering in transplanted seedlings.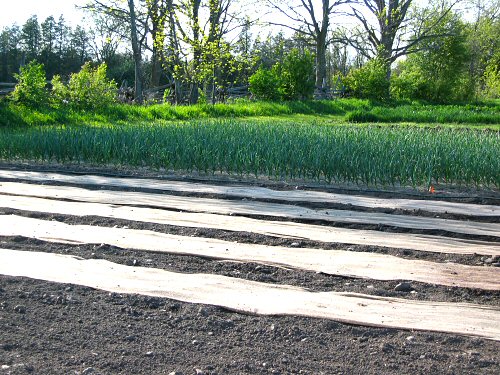 Things start to pop.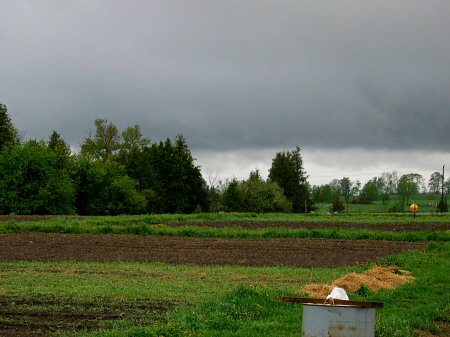 Weather! Waiting for rain to roll in.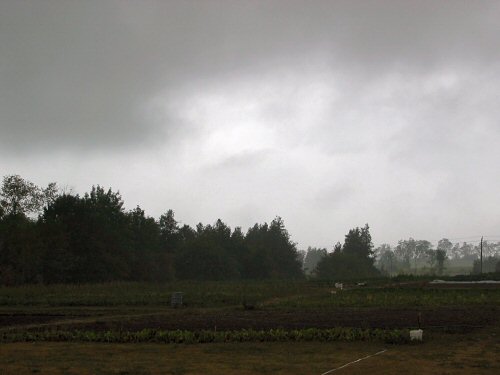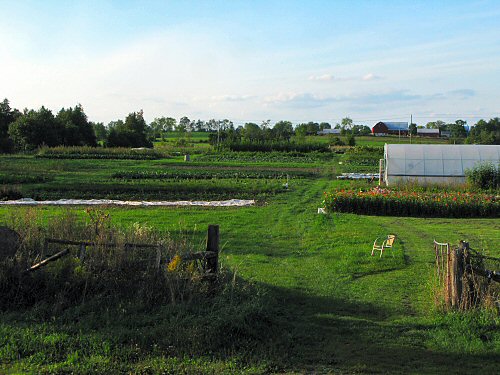 Abundance!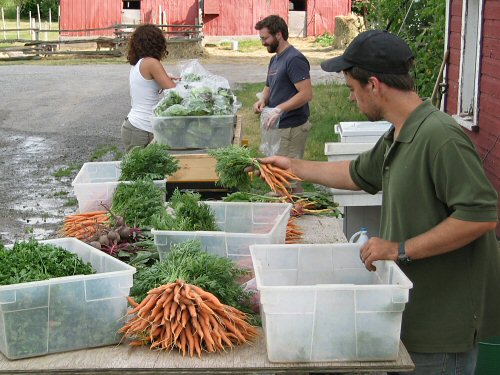 Post-harvest: rinsing and sorting.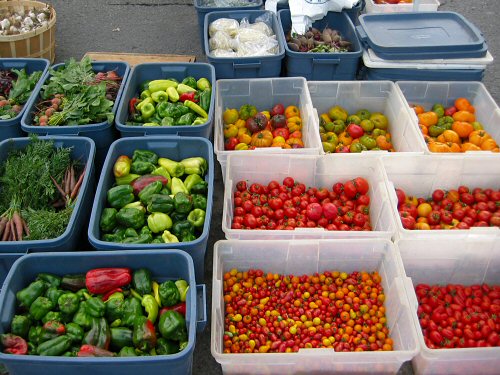 The weekly harvest yield.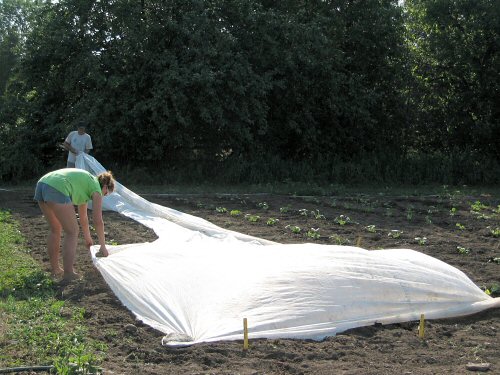 Spreading row cover: pesticide-free protection against insects, and frost as well.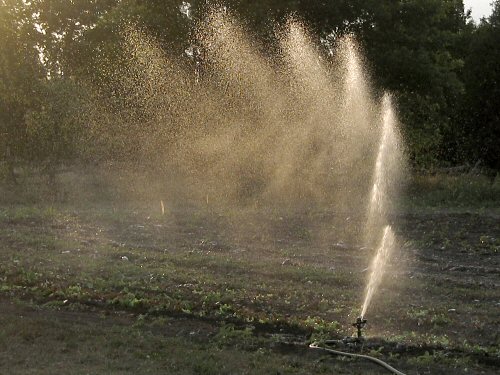 Spot irrigation on the tiny scale is pretty similar to what you'd see in home lawn and garden care, like this not-too-efficient sprinkler, watering in seedlings.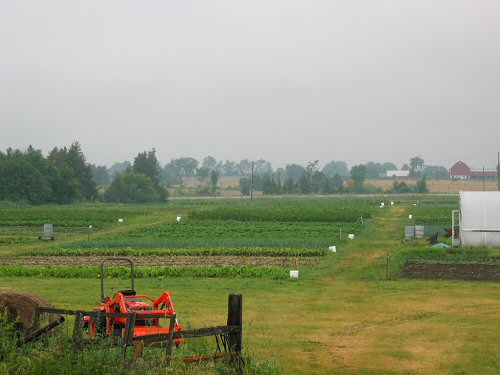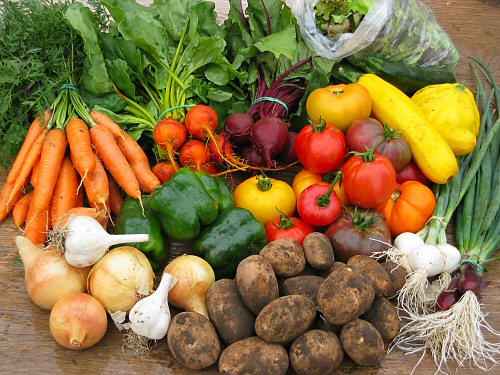 Veggies! This is a weekly CSA harvest share.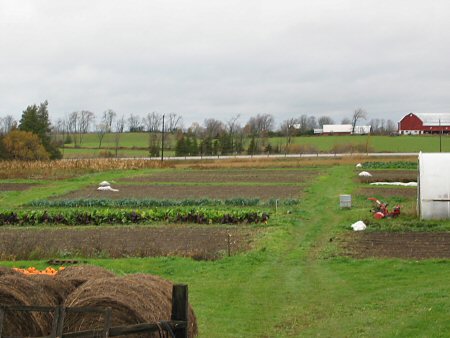 The outdoor growing cycle nears completion. The residue of finished crops is  tilled in.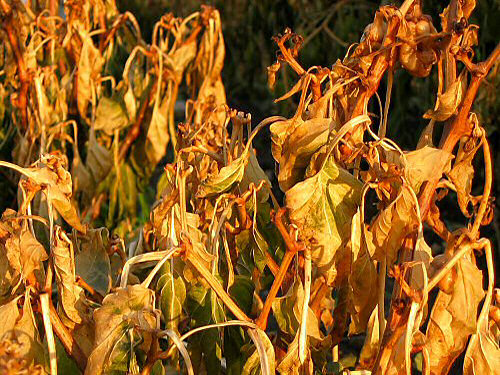 Peppers after a killing frost: pretty in the right light, but post-productive.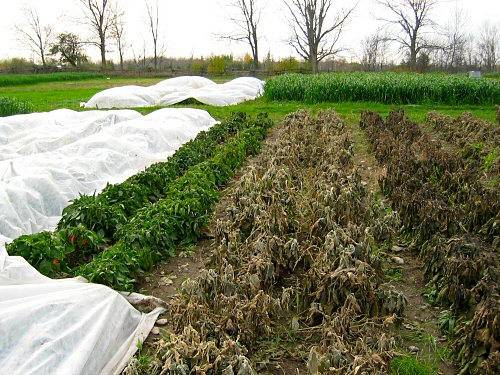 What a difference row cover makes: peppers after frost, covered and left uncovered.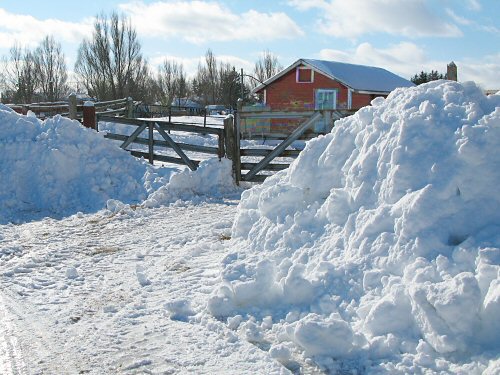 Back to winter.