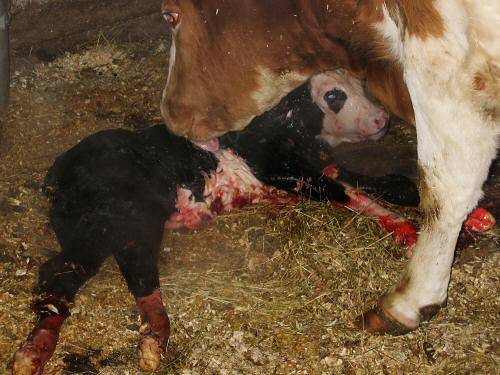 There was action in the barn in the wee hours today. A couple of the cows gave birth. Here's the first new one, around five minutes after his 4 am delivery into the cold barn.
This is the second time I've watched the whole thing unfold. The first was maybe a year ago. In both cases, human intervention was required, which consisted of Bob with a length of chain wrapped around a pair of calf's feet, pulling.
Last time, he explained it was a dry birth, where the embryonic sac breaks too soon, the head dries out, and, less lubricated, it sticks on the way out. A little feet-planted-firmly tug-o-war type pulling and…a new cow!
This time was a little more complicated, a breech birth, with the calf turned right around so its back end was aiming out instead of the head. Particularly with first-time births, the mothers aren't relaxed enough to let the bigger back end out first.
To help things along, the stainless steel calving chain was wrapped around the hind legs and attached to a cable with a ratchet, in turn attached to a steel fence post set in concrete.
The long-handled ratchet allows the cable to be pulled with more force than a person alone could manage, as long as the cow stays put and sets herself against the pull (which she seems to do, since I guess she too wants the baby out!).
After some minutes of pulling, out popped the calf. It's a boy!
There's lots of bloody fluid and trailing bits, and the calf lies there at first like a limp, wet, bloody corpse. But the mother is right on it, licking away, and within minutes its head is up and peering around, and if all's well, it'll awkwardly stagger to its feet in under half an hour. Pretty cool!
The second mother gave birth around four hours later. The first time watching all this was interesting, a little sensational with all the bloody fluid. The second time, it was simply satisfying, another really basic part of life that most of us in the modern world just plain miss (we eat meat and drink milk, don't we…well, a lot us do)?
I'm not sure about the breeding timing or anything like that, like, Why calves now? With Bob's cows, I'm an observer, sometime consumer, occasional chaser.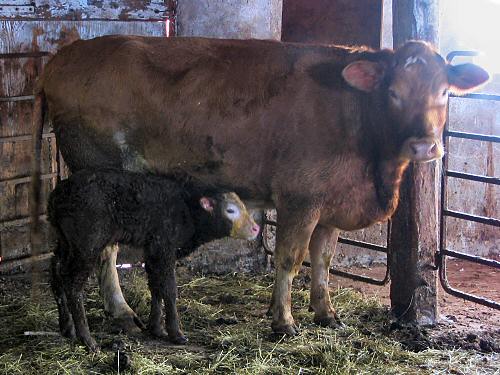 Here's the second calf, three hours after an 8am arrival, up and tottering around! Sturdy!! It's fascinating to watch them rapidly get used to their legs, steadier by the hour.