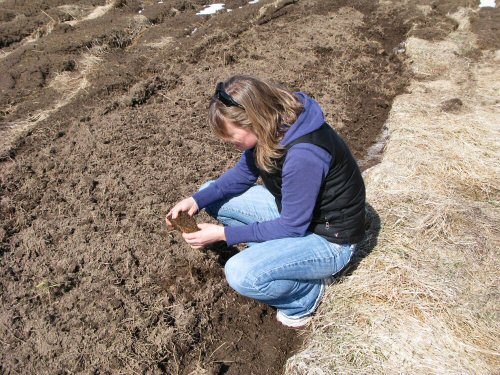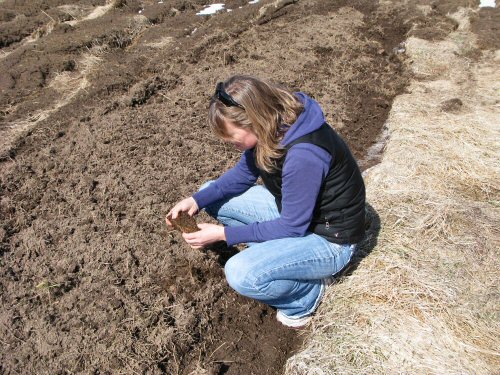 A sunny, still chilly, fairly busy outdoor day. Did some test tilling this morning, with the Kubota compact tractor and 48″ rototiller. The solid ground hasn't fully thawed out, but the plowed area is already nearly 50°F (10°C) at 6″ (15cm) deep. So I thought I'd have a go on a 30′ (9m) strip, to see how well it'd chop up with the Kubota.
The full plan is for disking—big plow, big tractor—by Peter down the road. That would break up the moldboarded strips, finishing up with the little (but mighty!) Kubota. But between the weather, and unexpected things happening, you never know when a date with off-farm machinery will fall through.
I want to get the early stuff—spinach, garlic (yes, have to try spring planting this year), onions and so forth—in as early as possible. So we'll probably be prepping an area with just the Kubota.
In the afternoon, Andie (aka Andrea, aka Max) dropped by for the first time, to check things out. She's finishing up school, and planning to spend a couple of days a week for the summer, learning about small-scale farming the hands-on way… We strolled around, Andie tried out some seed starting with a tray of arugula, and we chatted.
Everyone's first visit to the farm is a bit different, and there are all kinds of reasons why people want to get out in the field. This time, a good deal of the conversation involved university, graduate studies and the like, along with…tiny farming. It's good to have an idea of who you'll be working with, both ways—a comfortable, interesting fit really makes a difference in the tiny farm experience!
This season, there's a bit of a blog plan: to show a lot more of the people side of the market garden! Today, as often happens, I forgot to take photos while we were actually doing stuff, so right at the end of her visit, Andie checked out the freshly rototilled ground, and I snapped an official Her Day 1 pic. The soil looked good, it's a clayey loam (pretty much like at the old farm), with the sod breaking up nicely, and Andie seemed happy with the prospects, so we should be checking in again with both real soon! :)