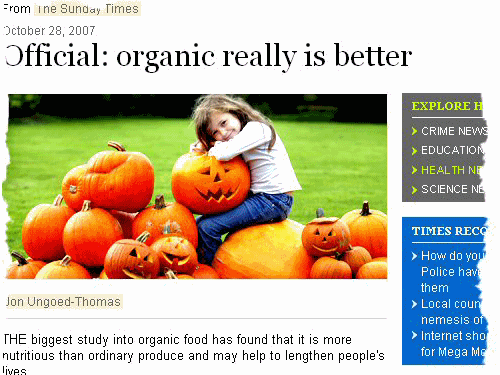 It's not the politics, it's kinda common sense… I was drawn into a link today on the Seasons Eatings Farm blog: "This article is informative." That's a pretty seductive word, "informative." Click! And, lo and behold, a whole new chapter to the rather mind-boggling mess of the "organic debate." Sure, it's yet another study, and it's only the preliminary findings, and so forth, BUT, it's also the first full-blown, government-funded (European Union) scientific investigation of organic food, with seemingly unequivocal results. The reporter of this article is pressuring the UK's government food agency to change its official stance that eating organic is a "lifestyle" choice and that organic food has not proven to be better for you, to reflect these findings. That's interesting… Will it be like cigarettes and cancer down the road, class action lawsuits against Big Dairy for knowingly supplying crappy milk that caused premature osteoporosis that led to complications like unnecessarily broken bones…and death? Holy heck!
This is a rare bit of intriguing news. After my first couple years of ignorance-driven winter reading about "all this stuff"—organic vs conventional, Big Ag, the various action groups and campaigns—I tired of much of it. Increasingly every year, I find that building the tiny (organic) farm and, well, ignoring much of the rest, seems to make more sense than being cause-driven in any organized way. So far, I haven't had the urge to join a Movement or head for the rally. This farm is certified organic, although I have mixed feelings about that whole side. Perhaps it all has to do with a mistrust for people trying to convince me of things on principle… Or faith. I mean, the food difference is pretty obvious if you get a chance to see for yourself. If you've eaten really fresh, garden-grown food, the typical, mass-produced supermarket veg is simply something else entirely. Clearly, it's not like the difference between a good cook and a bad cook using the same ingredients—a matter of taste—it's DIFFERENT INGREDIENTS. It took me less than one season to realize this, with some rather mild shock (how surprised can you really be, looking around at everything else? :).
Anyhow, while clicking around for more news of this study, I was reminded of Lady Eve Balfour and her Haughley Experiment, the first Western science-based, side-by-side comparative study of organic vs conventional. I'd read about her—and her book is online—in Year 1 or Year 2… She started Haughley in 1939, and it ran for 25 years. It's well worth the time to read her address from 1977, summing up the findings. The picture of the living soil it paints is…really cool (particularly if you farm or garden, because it'll probably make instant sense). Unless you're living in a wordless world, this is a little collection of gardening words that's useful to know!