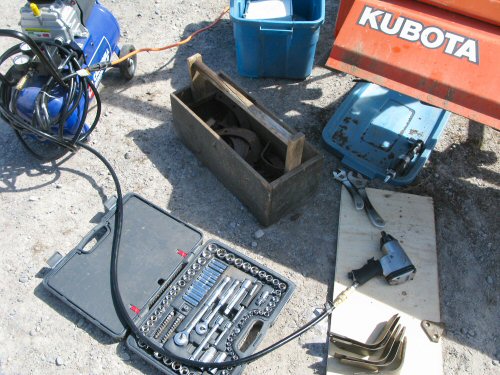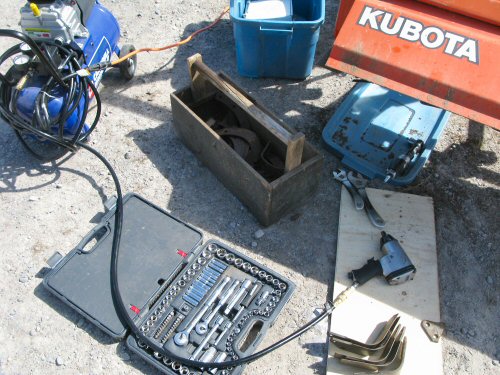 Looks like a whole lotta gear for swapping out one broken rototiller tine. Two bolts. BUT, this was a chance to try out the air tools with the new, tiny (8 gallon) compressor. So far, all it's done is inflate tires.
The compressor is a smaller-scale replacement for the heavy duty one at the old farm. It's not an absolutely essential bit of gear, but it does a lot of farm work: inflating, cleaning out things like screens and filters with blasts of compressed air, loosening big nuts and bolts (impact wrench), and removing lots of nuts quickly (air ratchet). And it can do more. I use it at least once or twice a week.
This unit is the top end of the home handyman line. The smaller tank means it can't put out full pressure continuously for too long.
Sometimes, getting "home" gear for the tiny farm just doesn't make sense, the equipment isn't up to what you need it for, or, it breaks. But you often don't need or can't afford the same heavier equipment as, say, a more tractor-driven farm. Then, the choice is to rent/hire, or buy lighter duty IF it will really work.
Buying used equipment is another great approach, but, you need lead time—you want a tool there when you need it, not only after a good deal comes along—and you need extra buying skills to make sure you're getting good used gear…
In this case, compressed air is used quite frequently, I couldn't justify the cost of a commercial/industrial compressor, and I wanted it right away (here, the difference was two or three hundred dollars, and that adds up). Of course, I figured this one would work out, but you don't know for sure until you try!
The impact wrench did just fine for de-bolting and re-bolting (I finished tightening up by hand). Now I know this little compressor can handle all the usual tasks on a tiny farm scale. Another CHECK on the new-farm, getting-set-up list. That's good!