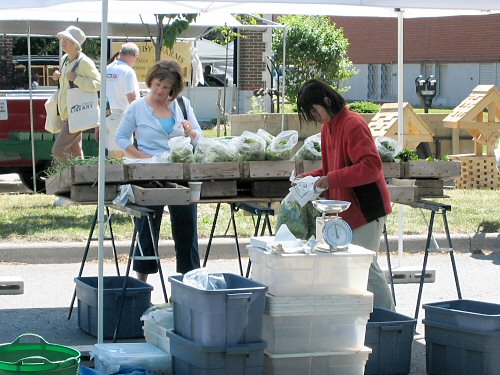 Setting up a stand at the local farmers' market reminds me of a traveling circus, at least, the way I imagine one to be. Everything has to be compact, easily packed away in a limited space (in our case, a pick-up truck), quick to set up and tear down, and quite rugged to handle the wear and tear. There are also lots of critical bits and pieces that it simply doesn't do to forget. Overall, the stand is a bunch of simple pieces, assembled into a functional little veggie selling spot. In this picture, taken from behind the stand, it's near the end of a fairly busy day, with crates and big leaf bags of greens all empty, and Kikuyo the WWOOFer-for-a-week from Japan helping out.
For the humble details…. This year, we're using two types of crate, both intended for home storage and pressed into veggie service. They stack well when full, nest when empty, are easy to clean, and generally hold up well. The table is plywood set on collapsible metal sawhorses (new this year, I used to make the table from empty crates!) that're compact, easy to open and close, and hold lots of weight. Using sawhorses instead of the usual tables with folding legs lets you customize the size, and cut down on weight. The rough cut cedar trays are my own big marketing innovation from Year 1. They're shallow for easy filling, and propped up at an angle. I think they give a little bit of a display edge over the normal flat-on-the-tabletop market look, so, probably worth the extra bulk. The canopy is a pricey-but-worth-it E-Z Up! (not one of the half-price copies). Extremely durable, it sets up and folds down in literally under 60 seconds (as advertised!), and just doesn't break! Holding it down at the corners are the infamous concrete blocks. I recently read that tripping and stubbing injuries on these things are the number one farmers' market injury… If you don't weight the canopy, a strong wind, even a powerful random gust, will have it sailing off (quite an impressive sight)—I'm gonna switch to cement-filled plastic pipe hung off the frame at the corners with bungee cord.
And there you have it!
(I'll probably get to all the smaller items, like bags, markers, price cards and push pins, in another post…there's most of the market season still to go!)