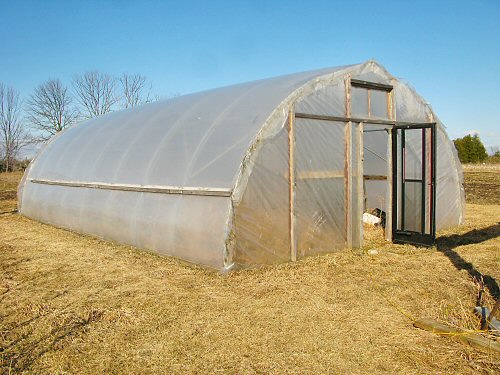 Headed to the old farm to pick up the greenhouse. It's only been a month since the main move, but the return to a place where I spent practically every day of the last six years felt strange. Inside the farmhouse, it was just a familiar space, but rounding the corner into the  barnyard, surrounded by all the old red buildings—barn, goat barn, drive shed—and then, walking into the field, that was different.
I guess this is the first real attachment to LAND that I've experienced. It was definitely unusual, not at all emotional, just a really strong, quiet sensation, a deep familiarity maybe describes it. I suppose the memories of all that thinking, observing, and working, tying together place and weather and ground conditions and seasons coming and going in one long, continuous arc, couldn't help but leave their own type of mark. So that was interesting! :)
Bob had already started dismantling the farm stand, but that was so solidly put together, with thick, rough-cut cedar, heavy old fence boards, and 3″ nails (if you ever expect to move the things you build, for a few dollars more, consider screws!), that's gonna be for another day. On to the hoophouse teardown…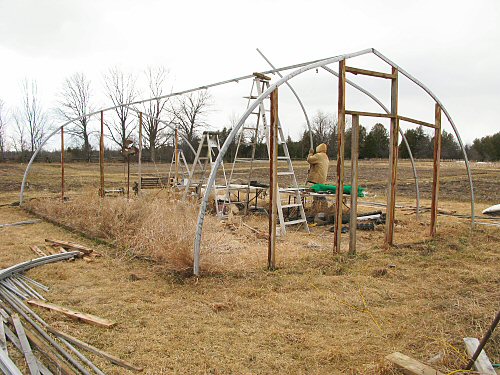 The hoophouse is all screwed together, so taking it apart was easy. I'd considered lining up some extra hands for removing the plastic—there was a breeze, gusting to 4-5 mph (6-8kmph)—but Bob thought we'd be fine. And we were: the plastic skinned off amazingly easily, without catching the wind at all, and it didn't disintegrate or tear…it will live again.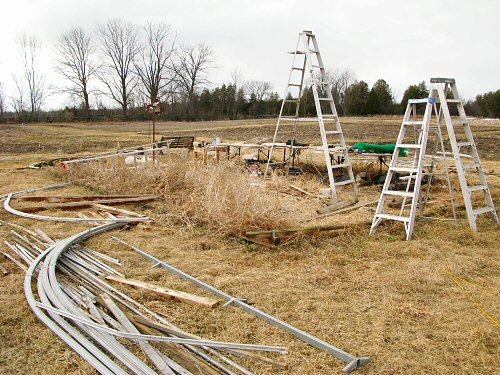 Around five hours later, and it's all in pieces, ready to load up and take down the road. Going up and coming down are exactly the same, so I decided to take step-by-step pictures when we put it up again at the new farm…