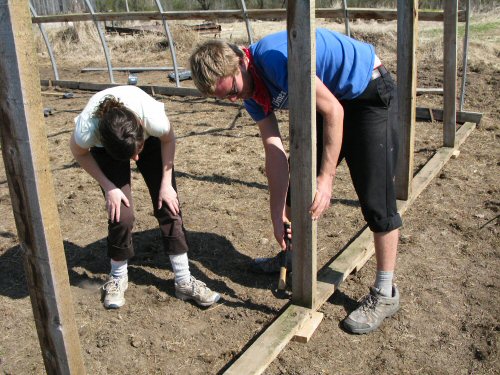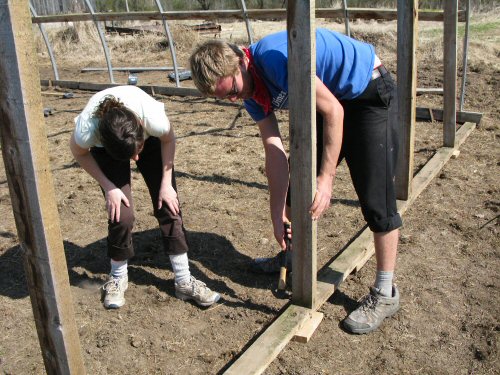 With the clamoring demand for greenhouse space around here, getting the hoophouse finished now that the frame is up is a PRIORITY. Yet here we are, a week later, framing the end walls and installing the wood along the sides for the roll-up section of the sidewalls. A stretch of wet, cold weather was the main cause for delay. Plus a really long list of other critical things to do at the same time.
For maximum satisfaction on the tiny farm, you want things to effortlessly flow along, from one small task or specific problem, to the next (IMHO, of course!). Right now, there are lots of phone calls to be made, things to follow up on, info to find, bits to write and forms to fill, stuff to source and buy, all sorts of more abstract, open-ended, DISTRACTING activity. Eventually, it will settle down into a more-or-less all-garden flow…
In the pic, Jordan and Lynn work on reassembling the end walls. The ground isn't absolutely level, there's a gap to fill underneath the 2×4's along the bottom (the sill plate). This isn't a problem as the weight of the hoophouse sits on the 4×4's running along the sides—they're firmly anchored, so we're set.
In this case, we can't cut the studs longer to extend the wall, because we're going to reattach the existing, pre-cut plastic. Everything has to come together the way it was. I should've numbered and marked each rib and piece of wood as it came apart. I'd usually have thought of that, but in this case, I only marked the main plastic, so that we could reverse it. Now, fitting it back together is a little puzzle… After this, there's not much more to do, just wait for a windless day to skin with plastic. Onwards!