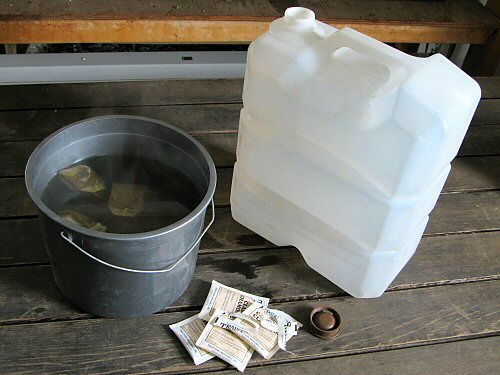 Chamomile tea prevents damping off—I'm a believer! It's one of those natural but-do-they-really-work remedies, used where more product-minded folks would fork over a few bucks for a bottle of No-Damp fungicide… I brew up a batch of tea, dilute it by eye to a pale gold,  and apply every couple of days with a fine-misting spray bottle. I'm pretty casual about the recipe, and keep spraying until the seedlings are established (that's my method, there are more precise instructions around as well, search online).
Damping off is the name for a bunch of different fungal infections that can hit seedlings in trays with similar effect. In my encounters, the damage appears right below the soil line, strangling the stem just out of sight. Dig up a stricken seedling and there's a small section of the stem, all pale and shriveling to nothing, while above and below, all looks well (the symptom's called "wire stem"). It's pretty shocking to see in action. One minute, your seedlings are looking all perky, and then you touch one…and it topples over! Whooaa!
Up to a couple of years back, I'd lose a few seedlings, usually PEPPERS for some reason, never anything major, parts of a tray or two, but enough to be scary. I seed-start in soilless mix (so it should be disease free), trays and tools are given a good disinfection at the beginning of the season, there's always plenty of air circulation, and I make sure the soil surface doesn't stay wet—all the things these soil-borne fungi don't like. Still, damping off was sneaking in, until chamomile tea spray came along… Coincidence?