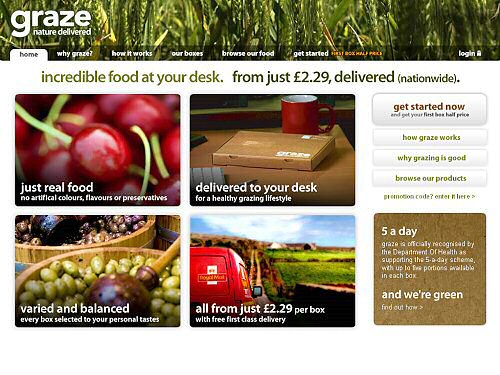 In comparison with just about everything else, tiny farming is so…basic. A friend sent me a link to Graze with the only comment: "Remember our chat about healthy food + convenience?" So I clicked it. I don't know what to say. After reading through the site, I was kinda, literally, almost speechless—the service is summed up in the home page snapshot above: Graze mails healthy snacks to you at work. The UK business is based on the British National Health Service's 5-a-day campaign that says you should eat five servings of fruit and veggies daily. Graze aims to help.
This is seamlessly intense green marketing. Every base is covered. Probably my favorite piece on the whole site is their description of how precisely-sized servings are shipped to you: 
Our box is thin, strong & uses the least material possible. What's more, it's from a sustainable forest, biodegradable & 100% recyclable. We source our food locally wherever possible, and prepare everything in our own kitchen, keeping food miles to a minimum. We hate waste so we buy all our fresh produce on the day we send it, and any leftovers go to our local farm. And best of all, the postman delivers it, so we don't need any vans or energy guzzling shops. We are always seeking ways to be even greener.
Fascinating! Puts direct-to-market tiny farming well in perspective! :)