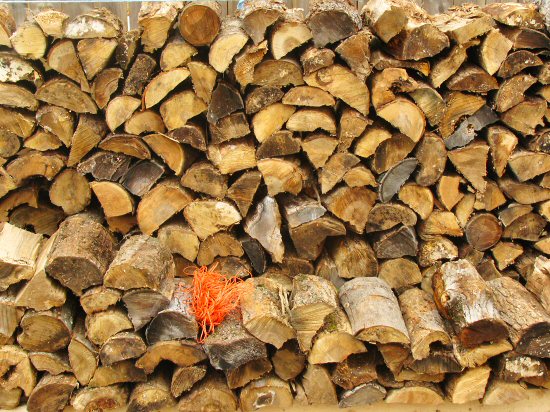 Our first wood order of the season arrived a week ago, just as we ran out of the leftover from last year. It's a bush cord. At least, that was what was ordered, bought and paid for. One bush cord of well-seasoned hardwood, in 16″ pieces. The wood is great on the seasoning end, but when I finished stacking it today, in our custom-built, holds-one-bush-cord rack (below), even taking into account the wood we burned over the last week, we are CLEARLY WAY SHORT!!
I'm kinda shocked at how short we are. When I looked into what exactly a bush cord comprises, the definition seemed pretty clear: 4'x4'x8′ of tightly stacked wood. A volume measure. With 16″ pieces, that equals one long 24′ row, 4′ high. "Tightly stacked" is a little vague, but after asking around, and looking at photos, it seems like common sense: you don't fit the wood together like a jigsaw puzzle, just stack it nice and solid. OK.
I built a simple rack out of 2x4s that should fit…exactly one bush cord. Of standard 16″ pieces. It's kind of a bush cord meter. To fit in the narrow side yard, the rack has two 12′ rails, with 4′ high ends. I stacked it reasonably solidly. And we seem to be at least 1/3 (that's 33%!!!)…short.
The firewood guy came recommended, he's apparently been doing this for decades, how could this BUSH CORD be so off? It's a mystery. I'm new to firewood, maybe the counts are loose, but this is extreme. I'm on the phone…