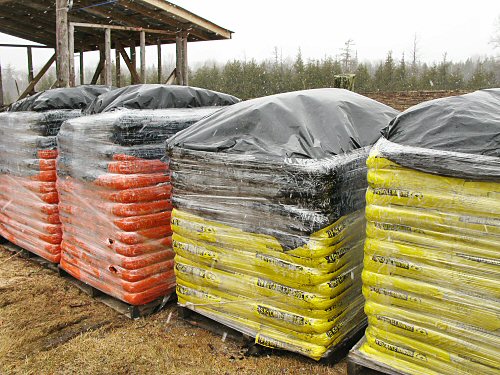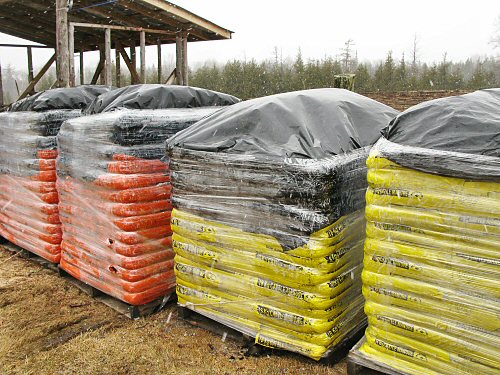 Back to cold and wet, with a bit of snow… Today was an interesting first in my brief tiny farming career: compost on skids! Fertility delivered! How convenient… This is about 5.5  tons (5,000kg) of fully composted, certified organic cow and sheep manure (half and half). According to the people who make it, at this point there's no appreciable difference between manures, it's all just high-grade compost now. Our organic certifier agrees: it's "legal" to use any time, unlike any type of manure, which has to be spread a minimum of 90 days before veggie crops are planted. So here it is, from around 65 miles (96km) away, via flatbed truck and forklift up the drive…
This is a one-time thing, part of what we're doing to start the market garden from a hay field plowed late last November. Unlike at the old farm, where cow manure was well-aged and plentiful, available by the ton, there are so far no animals here.
While I like the idea of animal manure, and find DELIVERY kind of odd and offputting, the current reality does force one to really think about hidden costs. The cows at the old farm ate far more hay than the farm produced, which meant buying in, so all of that free, on-farm manure wasn't exactly free, or on-farm. Factor in the total cost and complicated logistics of raising and selling local beef, and the relatively low return, and manure on a tiny farm can seem quite unsustainable.
In any case, maintaining fertility here is a whole new game. Green manure, compost, and a small amount of on-farm manure, from chickens first, are this tiny farm's future. And today's delivery is the kickstart. Here we go!