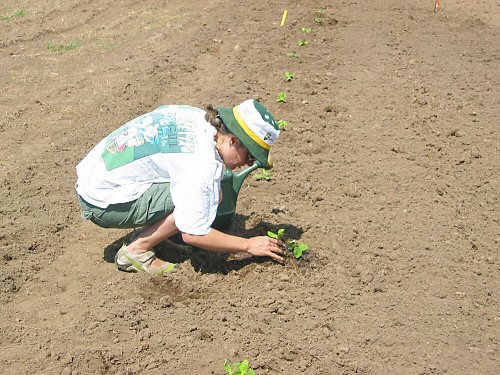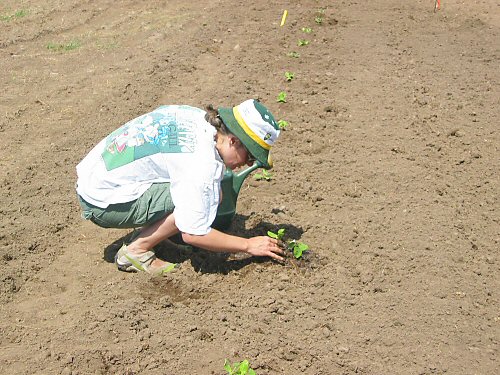 "Hand-tended" is one of the phrases that usually gets popped into the occasional bit of promotional writing about this market garden. Sounds good! If asked (hasn't happened so far), I'd explain that we don't use many machines, most of the garden work is done with hand tools, or just hands, as in, hand-weeding, or plucking off bugs…by hand. And lots of time is spent through the season, crouching and crawling around, checking out what's going on with particular plantings of this or that. Which all seems pretty cool. :)
Today, Tara and I hand-transplanted two beds of early-maturing Neon pumpkins (above), along with a few more Snack Jack (tiny pumpkins bred for producing lots of tasty seed). The Neons are 70-80-day hybrid, kinda freakishly quick to mature (pumpkins are mostly 100+ days).
At this point in the season here, it's getting kinda late for winter squash and pumpkins, but there are a few beds still to fill in, so a bunch of 70-85-day varieties, coming up in pots in the greenhouse, will be heading out to the field over the next week. With anything but the worst in cold and cloudy weather over the next three months, they should size up just fine!