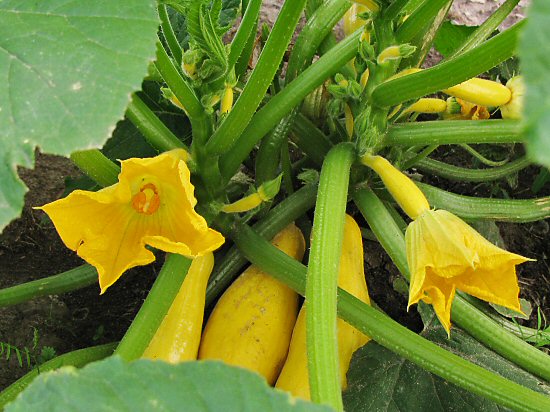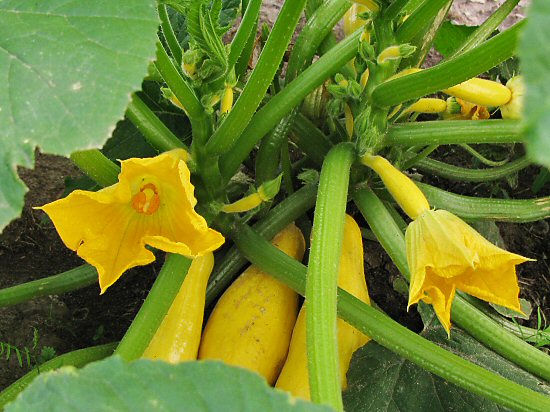 In the market garden, summer squash can't get much better than this. These guys, part of the second planting for the season, have it all.
Leaves looking really healthy: green, uneaten, and so far free of the powdery mildew that inflicts itself on many squash varieties and eventually kills some off before their time.
Perfectly ready for picking: These Early Crooknecks are a nice size, there's a few per plant, and they're quite easy to get at. All the summer squash were multiplanted, 2-3 plants growing together, so things could get pretty overgrown and hidden. This second planting set fruit fast (unlike the first round!), and the plants are still nice and open for easy reaching in.
More to come: In the small-scale market garden, you're always thinking quantity and COUNTING. How many pieces do we need for today's CSA shares, how many bunches for tomorrow's  farmers' market, and so forth. You're thinking for now, and also for Next Week, and then, more weeks ahead. In that order. Today, there are plenty of tiny squash that'll size up in a week no problem!
Bonus specialty selection: Squash flowers! Lots of veggies have cool options, like broccoli flowers and side shoots, squash blossoms (aka zucchini blossoms), beet greens, pea leaves, and generally, harvesting very small and young (I tend to like things to grow to a nice, solid size). So if you dropped in looking for a few squash blossoms (as seen on Food Network :), we could hook you up!
So there it is, my idea of practically perfect market garden summer squash for the tiny farm harvest. There's ALWAYS room to improve…but here, how?