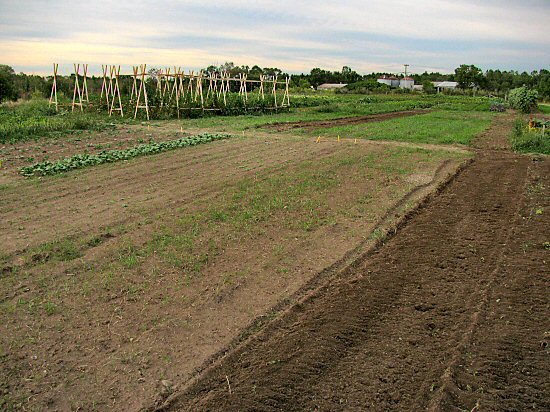 The weather is warm, the days still feel long (although, at 5:00 a.m. for Saturday market, I'm already waking up in the dark)—summer is in full effect, but you know the season's soon changing because the field is clearing out. Today, I did some tilling, cleaning up before weeds get too established, and preparing for a last seeding of spinach for fall harvest (a gamble, for sure).
In the pic, a couple more passes to the left of the freshly turned strip and we'll be at the edge of the previous spinach planting, barely visible, seeded about 3 weeks ago. To the left of that, a half-bed of bok choi, delicious and miraculously untouched by flea beetles, at tiny baby stage from seedlings transplanted at the beginning of the month. Beside the bok choi, beds of broccoli and cauliflower, also set out 4 weeks ago, and looking pretty good for harvest in October.
This section was planted out at the start of the season to snap peas, lettuce, and the first spinach. After adding in some of the handy pelletized alfalfa, it gets to go round again!
In the next section (top right of the photo, which is…east), I've started tilling in an overgrowth of grass and vetch, where more peas and the first plot of potatoes used to be. That section is done for the year, and may get a protective cover of fall rye, as a green manure to be turned under in spring.
In the market garden, it's always one thing after another… :)