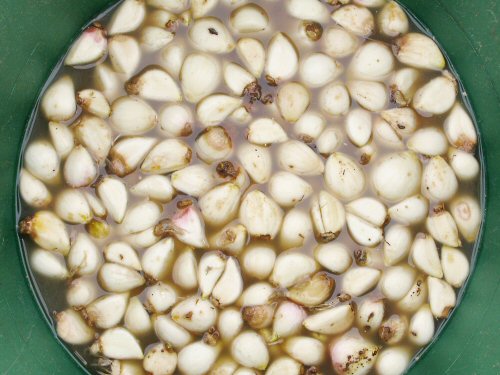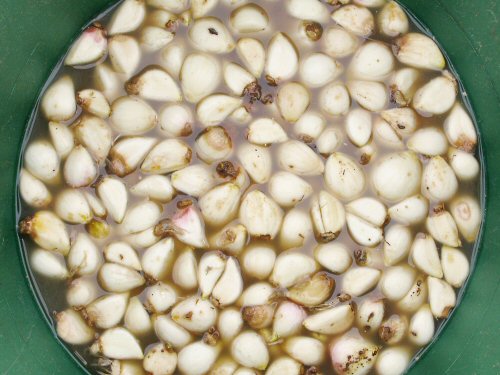 With the timing of the move to the new farm, there was no fall garlic planting for this year. Very sad—over the last three seasons, we've grown 2,000-3,000 bulbs a year, it's a much-loved crop all around (starting with me!), and it's been the very first sign of new veggie life as the fields wake up every spring. Oh, well, we should be back to full-on garlic this fall!
Meanwhile, what we have INSTEAD is about 200 of the toughest, most I-will-survive garlic cloves ever, going in today for a really late start, late even for spring planting! After long months of storage, and an accidental total freezing, the loss of garlic I'd been saving was pretty huge, these 200 out of maybe a thousand.
The guys who made it got an overnight cleansing and rejuvenating bath in a mild solution of baking soda (anti-fungal) and kelp extract (boost), and they'll be quickly rinsed in alcohol just before going in. Especially for this small, late planting, all this prep probably doesn't matter much, but they deserve it (personify and pamper your seeds and plants when you can, it's friendly, until you harvest and eat 'em!).
So, it'll be a first-hand test of whether it's worth planting spring garlic at all. From what I've heard, chances are we'll get at best smaller, later bulbs, some misfires with no bulbs forming, and the same great garden-grown garlic taste! We shall see…!