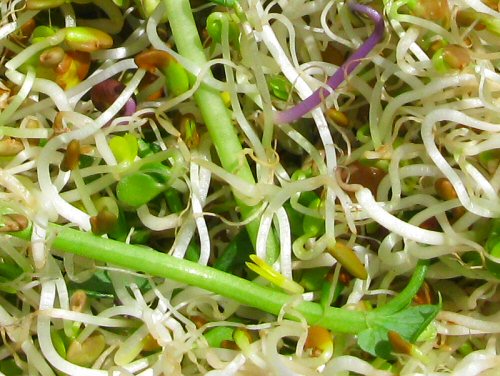 Sprouts—the tinier tiny farming! After two Saturdays of buying them by the bag at the farmers' market, I'm totally hooked! I want to grow sprouts, the nutritional claims are quite amazing, most of all, I really love the taste and crunch of EATING them (mostly, by the handful).
Until our first harvest, we're dropping by our market to stroll around, chat, and buy food. It's only been a couple of weeks, but I already have a routine with favorite stops, including one to get salad greens (first time in a few years that in-season salads aren't homegrown), and one for SPROUTS!
I get the megamix, with a little of everything. Can't even remember the whole list, but there's something spicy, tastes like mustard, pea, kale, broccoli, I think, lots more.
Sprouts aren't new to me. As a kid, I remember my mother growing a jar of bean sprouts for a regular Asian-style stir fry-type dish she made, and I've bought usually alfalfa sprouts for sandwiches, but I never really NOTICED sprouts till now. They're great. So, it's figuring out the simplest way to grow a wide variety for a steady personal supply…