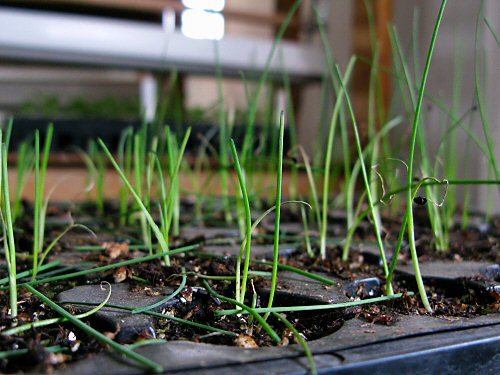 Trimming back leeks is really satisfying. Here, I'm doing the first planting. With most indoor veggie seedlings and my two-lamp fluorescent fixtures, it's lots of tray rotating and light height adjusting to keep the stretching to a minimum.
Leek can reach all they want: at three inches (7.5cm) or so, I snip them back to about an inch (2.5cm). What could be simpler?! This goes for the onions coming up as well.
With nice low seedlings, the light can be better concentrated across the trays, and cutting back may ensure stockier growth, which is generally a good thing when it comes to seedlings (update: I read a pretty definitive-sounding study that disproved the growing-stockier part; either way, it's worth trimming just for keeping them closer to the light).
This is the first year of starting both leek and onion indoors from seed (in the past, it's been direct-seeded leek, and onion sets)—I've not actually DONE this before—so there's the usual slight bit of reservation with trying something new. Seeing is believing. Fun (easy) so far!
Elsewhere, we got what looked like a foot of snow overnight. No problem, no extra work, except the lane, barnyard and path to the greenhouse had to be plowed again…