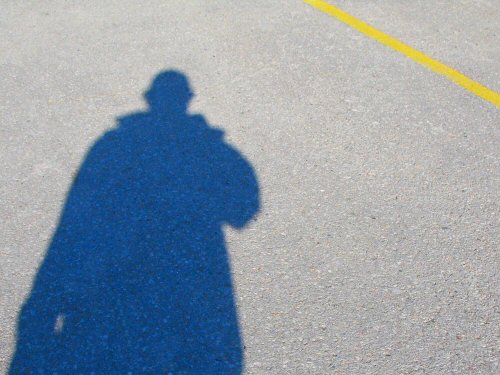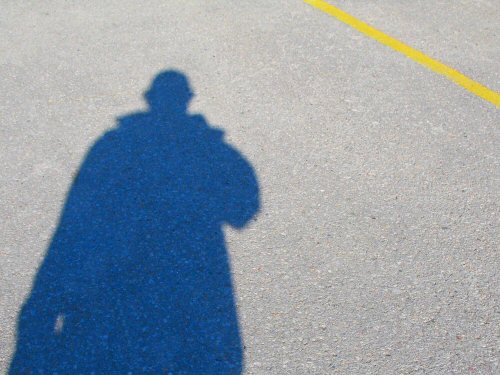 Here's our so-far-unoccupied space at the new farmers' market… This photo was accidental, clicked while checking some camera setting or the other. But when I saw it on the computer, it reminded me of the totally transient nature of farmers' markets (and tiny farming in general!). Here we are, standing in a rectangle of asphalt marked out by some yellow lines, a PARKING SPACE, that transforms for a few hours into our little veggie emporium. All of the intention and energy of the tiny farm, concentrated…RIGHT HERE?! In a giant parking lot. Kinda weird… Life is what you make it, I guess! And I do love going to market! :)
Showed up at the 7am start of summer market opening day, to make an appearance, check things out (like, our new spot!), meet some of the other vendors, buy some food. Tara will also be here every Saturday, plus others when they can, but for the next couple of weeks at least, we won't be setting up, and some veggie vendors won't be here till June.
This market is at least 4-5 times bigger than the one we attended at the old farm. It'll be a big change, with more small-scale organic growers offering similar veggie selections, and also way more people, but none of the familiar faces I've gotten to know, in many cases over 5-6 years. That last part is sad, but overall, it's exciting.
Our stall is in a central spot—the empty space beside the round, yellow "honey" sign (below)—which seems good. Upfront in the photo is an array of unseasonably available produce—nice sweet peppers for early May!—from one of the several larger vendors who presumably buy at least part of their menu where the supermarkets do: a local food issue that's concerning, but doesn't upset or anger me the way it does some—everything tends to shake out…
We're located beside another tiny farm, and I chatted with neighbor Anna about whether that might be a plus or not, if people have to choose from similar things on both stands. We'll see, but it sounds to me like more choice, MORE FUN, and from what I've heard so far, all the small growers usually sell out by the end of the morning anyway. I bought some wild leek from our neighbors, a bag of great mixed baby greens from another aisle, an excellent bag of mixed sprouts…there's lots to buy at the market when you're not tied to your own veggie stand!
So, in its own exploratory way, our new season at the new farmers' market begins…!!