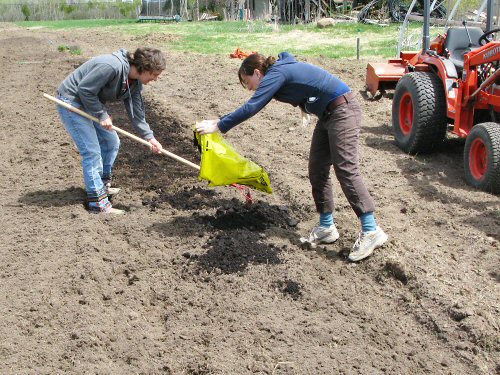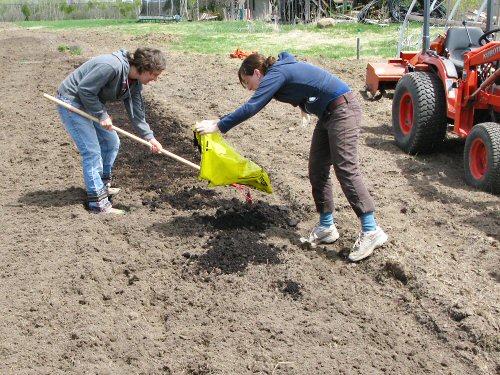 This has gotta be the most painstaking way to plant out two acres of veggies! To recap: different sections of the two fields are at different stages of tillage (Peter down the road has had to come back a couple of times to disc, and there's STILL a small section to go), and of course there was no time to spread manure in the fall. It's even a little more complicated, with a fair amount of chopped up sod getting in the way. Sooo, we're working a few beds at a time, with different treatments depending on the crop.
Here, Tara and Lynn prepare a 50′ x 3′ (15.2m x 0.9m) bed for baby lettuce for mesclun. Because it's seeded densely and grows quickly, we decided to apply a fair amount of that expensive certified organic compost, and then reuse this bed for at least one or two more mesclun plantings later in the season.
Spreading from Bags Method 1: We brought over a stack of 40lb (18kg) bags in the bucket of the Kubota compact tractor, emptied 8 bags one by one, and lightly raked them in. Thinking about it afterwards, it seemed easier to empty the bags into the bucket, use a shovel to spread, then rake it in. An extra step, but overall quicker to incorporate.
Definitely hand-work, especially compared to loading up an 8-ton manure spreader and driving it around with a big tractor, like we mostly used to do! Good thing we're only giving this special treatment to a few beds for salad greens. And it is all getting done…