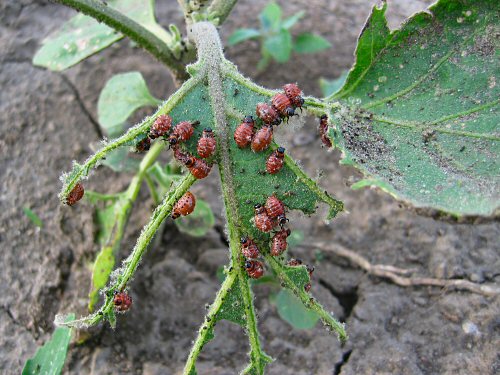 In today's field photo selection, there was a kinda cool shot of a last-season carrot starting to flower, a freshly hand-weeded onion patch looking quite sharp, or this shiny, slimy cluster of baby Colorado potato beetles, going to town on a Black Beauty eggplant…
Pests and disease have thankfully not been a big problem in this organic field. I like to think that the garden is in some sort of balance, but perhaps it's just location and luck… In either case, there have been some outbreaks: many tomato hornworms on the…tomatoes in Year 1, same for Colorado potato beetles on potatoes, early blight on tomatoes three years ago when the summer was cool and almost always cloudy and damp, and, of course, the everpresent flea beetles (brassicas) and striped cucumber beetles (cucurbits).
The FBs and CBs are defended against with floating row cover. The rest have recently died down, to the point where I let them do their thing, handpicking a few, but really accepting a small amount of leaf damage (they all eat leaves) and no plant loss.
This year, the CPBs seem to have crossed over to eggplant (another of their natural targets, but one they never really took aim at in the past). They seem to be favoring the Black Beauty eggplant…
The worst of the major damage in the photo happened in probably less than a day, as I'd taken a walk through there just yesterday. Only about four or five of 60+ Black Beauties had a significant presence, with a few loner CPBs on other varieties (and I'd noticed no eggs on the leaves in earlier checks). So, I squished 'em. Vigilance is somewhat increased.