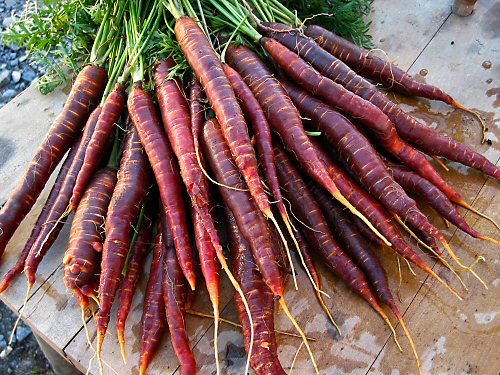 When yet another person asked for the "purple carrots" at last Saturday's farmers' market, I realized they had moved up from alternative variety to mainstay status, alongside Nelson (hybrid) and Touchon (open-pollinated heirloom). That's kinda cool, considering how orange and carrot go together around here. This is the second season that I've harvested PH for market at least every two or three weeks.
This year, I've included PH in every carrot planting (five so far, one a make-up for bad germination), and despite one bad showing, germination is overall as reliable as any of the others. Once established, PH has been great in our rather heavy clay-loam soil, growing straight and performing well even when a bit crowded.
Purple Haze is an imperator-shaped carrot (thick at the top, tapering to a point, cartoon carrot-style), with an orange core, and retains its purple color even through light cooking (it gets darker and less purple with full cooking). And it consistently tastes great—raw, it has a distinctively dry, refreshing crunch, and it's always sweet as well as…carroty.
It's a hybrid (I intend to try Purple Dragon, which I've had my eye on for a while, apparently an heirloom, but the seed is crazy expensive…), grows to 10-12″ (25-30cm) in 65-70 days, was an AAS winner (best of the best new varieties) for 2006, the year it hit seed catalogs here.
The bunch in the pic, pulled for today's last couple of CSA shares, are from the second planting and just starting to put on size. And, yeah, they're named after the classic Jimi Hendrix track!?! "'Scuse me while I kiss the sky…" :)