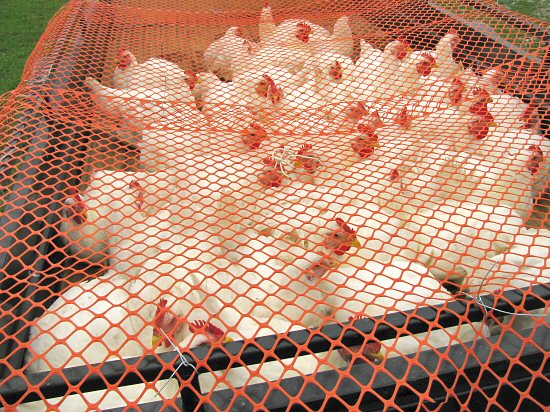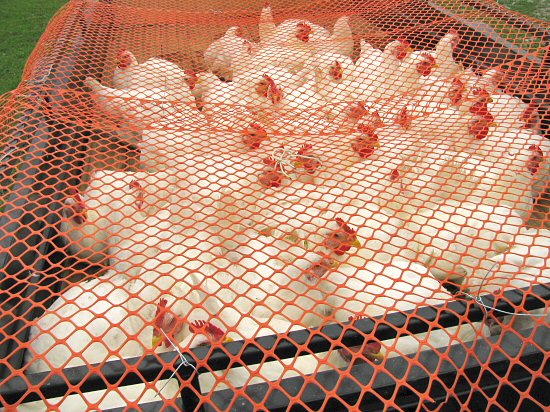 The White Rock Cornish X meat birds are now…meat! Today was to-the-processing-house day. Up at 5:15 a.m. to get them rounded up for the trip. And it seemed to be a pleasant one for them. They arrived looking laid-back and content after a breezy 35-minute drive. This was gonna end up their "one bad day," but so far, so chill.
To save an hour plus round-trip  drive to pick up cages from the processor, we decided to load 'em directly in the trailer. The original idea was to cover it with a tarp, but I waited till the last minute (this morning at dawn) to fit it, and there was no easy way to get the tarp secure. So, a last-minute solution that turned out great: snow fencing and wire.
Three sections were cut from a roll, overlapped, and fastened with twists of light-gauge electric fence wire. Really quick, secure, easy. Perfect! At the processor, I helped hand off the birds right through the slaughterhouse door. And that was it: back at 5:30 p.m. for the pick-up.
The trip was smooth, but the end was still a little impersonal: in one processor house door, out the other. I hope to fill in that last killing step soon.
So there we are,  39 free-ranged chickens, after what seemed to be a happy, active, fast-growing, 11-week life, are now government-inspected, weighed (average about 7lbs/3kg), packed in plastic, and pre-chilled for the freezer. This seems pretty close to sane meat production. Chicken dinner!