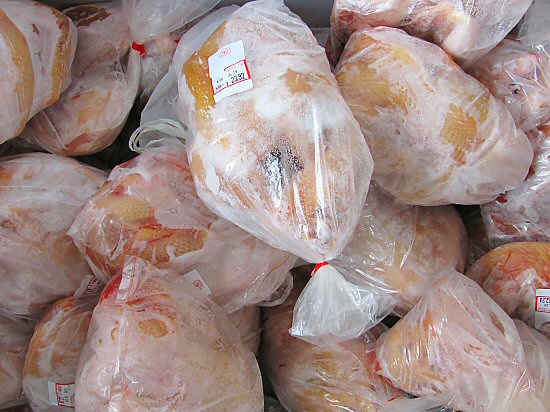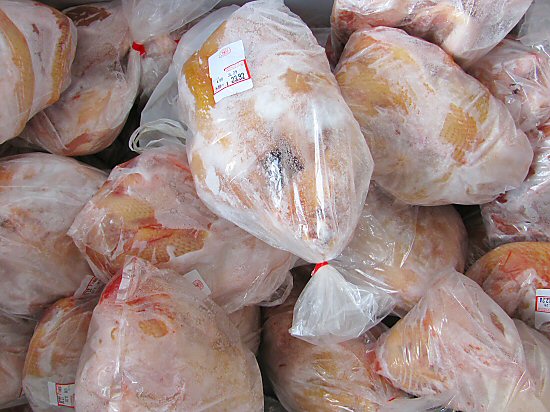 There they are: 38 newly processed chickens, freezing solid in the chest freezer (39 minus the one we took to roast fresh). It's the last stop before the table on what was a pretty fine meat bird run.
Like everything else on the tiny farm (and in life in general!), when you get down to freezing chickens, there are the details. What I noticed this year is the amount time it takes to actually freeze chickens solid. This wasn't quite as apparent last year, when we started with under 20 processed birds. Here, checking out the new freezer's manual, I loosely followed the advice against freezing too much at once. I put in half, around 20 chickens, for a few hours, then added the rest. I've also been rotating them—they freeze faster when they're exposed—but after a day, they're not all rock hard.
I have it in mind that the faster you freeze stuff, the better it is when you thaw it out: firmer, not mushy. Something about smaller ice crystals doing less cellular damage. Sounds plausible to me!
Luckily, the chickens came heavily pre-chilled from the processing house. Processing your own in any sort of quantity, I imagine you need a fair bit of refrigerator space to cool them down, or a walk-in cooler, or lots of chest freezers. Another thing to look into for…the future!
Of course, the whole freezing thing is another puzzle. It's quick and easy, and works really well for all kinds of food. Newer chest freezers seem quite energy efficient: this 15 cu ft one uses 400 kWh a year, which is like keeping a 60W lightbulb on for 9 months (at current electricity rates around here, that's about $50). Doesn't sound so bad, and there's room for lots more in there. Still, we're trusting a lot to yet another plug…
FINALLY, there's the sticker, another fine feature of commercially-processed chicken. The meat is Ontario government-inspected (a provincial inspector is always on-site, that's the law), which is indicated by a little logo on the label. Plus you get the date, weight down to two decimal places of precision, AND a price-per-pound of your choice. I picked $4. These birds are for our own use—not for sale—but it's always fun pulling out an EXPENSIVE farm chicken for dinner, as long as it's priced kinda within reason…