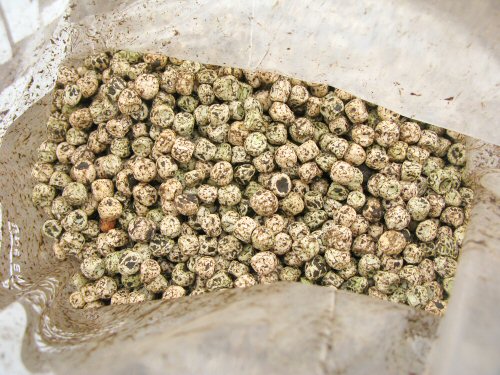 The first direct-seeded crop went in today: Sugar Ann snap peas. As usual, the peas were inoculated with Rhizobium bacteria: dampen the seed with a little water, sprinkle with inoculant powder, and shake.
Rhizobium bacteria enter legume roots and form a symbiotic relationship with their hosts, producing plant-usable nitrogen in exchange for carbohydrates and other nutritious goodies from the plants. The net result is…more nitrogen for all! Or as the inoculant package says: "bigger yields and better quality"!
Sounds great. I take it on faith (in the science, I guess), since I haven't actually observed the with-and-without inoculation difference. I have a couple of times planted without, but I wasn't taking measurements…
Each legume (peas, beans, clover, etc) needs its own species or strain of Rhizobia. Luckily, there are packets of premixed assortments that cover the common veggie legumes. What I've been using, called simply enough, Garden Inoculant, is good for beans, peas, lima beans and sweet peas.
The bacteria do establish in the soil so that they're available from year to year, but I'm not sure how long and in what quantities it takes to get set up with the strains you need—until I find out, I'll inoculate every time…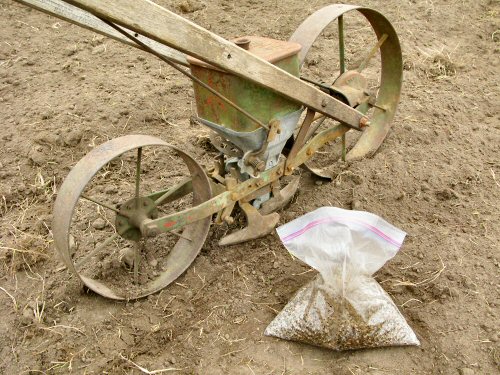 Then it's on to the seeder. I'm using the older, heavier, probably-antique Planet Jr. over the usual Earthway.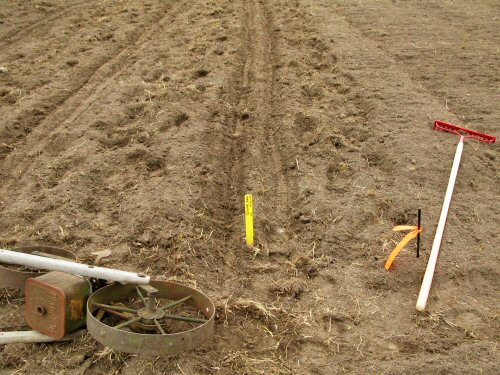 And minutes later, 3oo' (91m) done. It's an almost painfully small start for April 20, but I'm figuring that every few days I leave the broken up sod to break down more, the better off we'll be. Soon, though, all the rest of the early direct seeded crops will just have to go in!