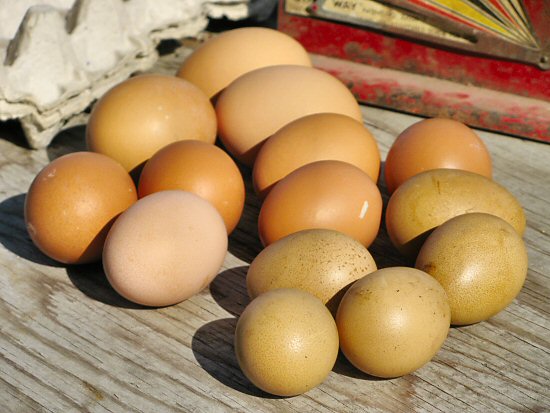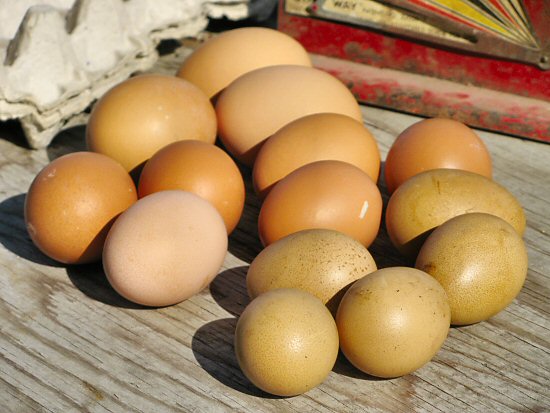 [Backpost: Aug-2-2009] Four or five of the girls have been escaping every day, creating their own day pass, and doing a fair imitation of flying while they're at it. In the morning, I open the chickenhouse door and barricade it with a strip of plastic fencing that leaves a 2′ gap at the top. After I leave, they hop up on the roost, propel themselves, furiously flapping, to the top of the fencing, perch there for a moment, and then head out.
I'm not sure if it's always the same ones. There are 25 Shaver Red layers, and I haven't spent enough time hanging out with them to really tell them apart. But I suspect it's a gang.
They spend the day foraging far and wide around the farm, and return at night, waiting to be let back in. This has been going on for several days, since the meat birds left…
Today, Connor found a few eggs in a thicket they seem to like. Besides being a different color  from all that exposure, the eggs are clearly getting SMALLER (they're the ones in front). As varied and nutritious as their free-ranging diet may be, it's lower in protein than the carefully concocted feed available inside. I guess that's what's up.
In any case, we'll soon put up some kind of fence, cut out a chicken door, and they'll have the best of both worlds: grass and bugs on the outside, protein-rich feed from the feed store inside, and a convenient place to lay.  That will be our state-of-the-art in natural eggs for the next little while…