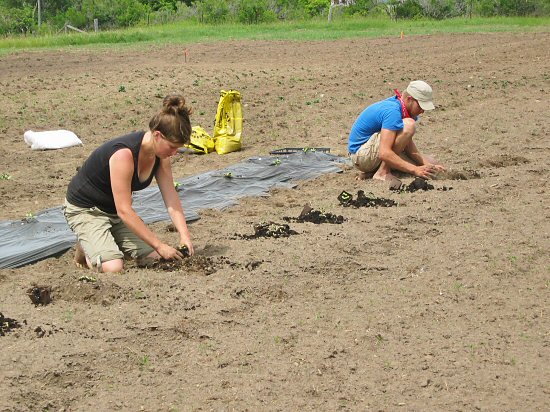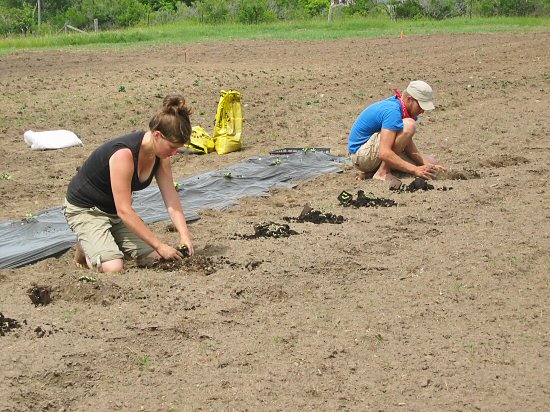 It's another week till the start of CSA shares and the first picking of peas, and at least 3 weeks until some of the heavier crops—broccoli, cauliflower, summer squash—are ready, so Friday's are still about general fieldwork, not HARVEST. Just ahead of the end of spring, Lynn, Libby and Jordan planted out a last wave of winter squash and some fast-maturing (80-90) Neon pumpkins. That brings the spring planting to a close, a little later than usual, overall, but considering the first-year, start-up situation, really good!
We also put in one bed of melons under infrared-transmitting (IRT) plastic mulch (above).  For a couple of years, I planted 5-10 50′ beds under IRT mulch (more heat to the soil), but yield wasn't worth the effort, including the extra watering (didn't use drip tape under the plastic). This year, with one bed to focus on, it's an experiment—we'll try to give them extra special care!
Lynn vanished early from lunch, only to be found reading her new herb book under a tree. This photo (below) doesn't nearly capture the scene: it looked like an impossibly peaceful countryscape, from a simple, carefree world—fit for a postcard. We were laughing, and Jordan spontaneously got out his camera and took photos, too.  I asked her if she'd scouted the location for the setting (joking, but I can also be a bit of a cynic! :), she said it was just the best spot she could find for shade!