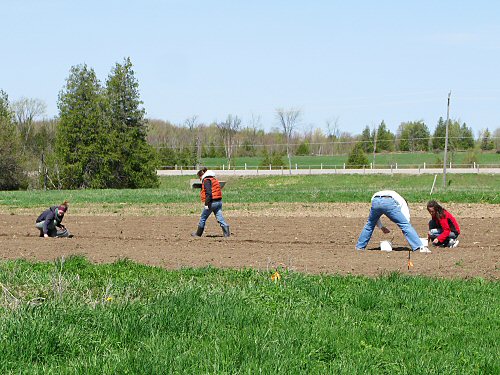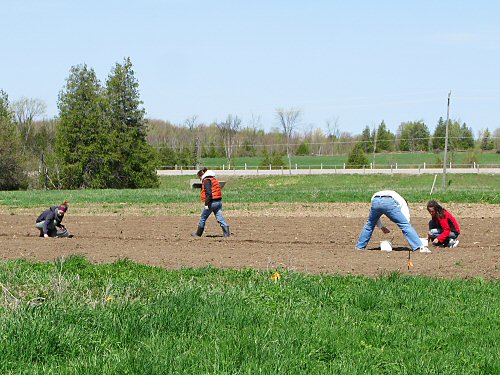 A satisfying planting day: all of the onion sets (around 2,500) and 300 lbs (136kg) of potatoes are in.
For the onions, Raechelle (first day in the field), Lynn, Jamie (a new CSA member), Shannon (here for a month), and I made quick work of the onions: Stuttgarter yellow cooking and yellow Spanish.
It's amazing how much fun people working together in a garden can be, there's a positive, happy, energy that I think comes from sharing time in the dirt (maybe that's just the tiny farming romantic in me, but I think not… :). Plus, potentially tedious tasks are done in no time!
For an encore, Shannon and I polished off the potatoes, finishing just as the sun set and another chilly evening set in. This year, I used the furrower attachment on the Horse walking rototiller to plow what turned out to be excellent trenches, in ground that had been tilled up about a week ago. Varieties are Yukon Gold, Chieftan (red), and Kennebec. In this batch, all varieties were about chicken egg-sized, so, no need to cut 'em into pieces. In-row spacing is 12″ (30cm), between row is 24″ (60cm), with a bit wider path every two rows. We covered them by hand-raking. In all, 40 x 50′ (15m) rows, which is about 2000 plants.
Every year, I've tried a different potato approach. Last year, I made much shallower trenches with a hoe. As far as set-up, this time around was the best yet.
The onions are in a bit later than usual, I've had them done as early as mid-April, but no worries, and potatoes are around the usual timing. I grow a relatively small quantity of both of these crops, they always sell out, and they feel like a good fit for CSA and farmers' market from the middle of summer on, so having them at the absolutely earliest date isn't that important at this stage. And what would tiny farming be without lots of room to improve?! :)