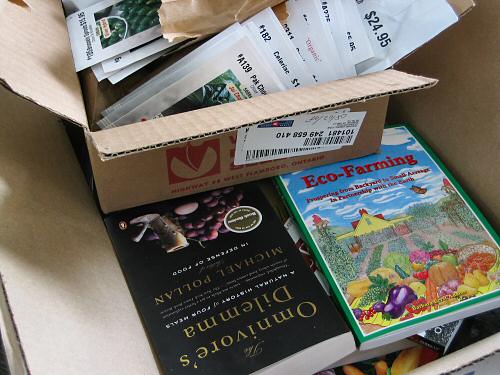 Better than Christmas! The first half of the first big seed order, and my first book order in months, both arrived today.
Seed every year comes almost entirely from three companies: William Dam, Veseys and Terra Edibles. The first two are both bigger, family run companies, one definitely slicker and more marketing-oriented, with a series of color catalogs through the year in addition to their main one, all kinds of enticing special offers involving free shipping, a call center with almost no waits, y'know, the works. The other is definitely more…"indie", with a single annual catalog, a written commitment to untreated seed only, and a busy signal more likely than not right through the order season: keep calling till you get through. The third is a tiny company specializing in heirloom seed, grown in-house or directly sourced from small growers.
The cool thing about all three is that you're actually dealing wtih the owners, right to the top. Even in the case of the slickest one, when a seed potato order was a WEEK late last year, the prez himself called to apologize. And I've had great, informative chats with various people from all. It's another small satisfaction, knowing to a degree from where and whom your seed arrives.
The book situation is a little different: Amazon.com (Amazon.ca, in my case). It seems like a sprawling, faceless, digital megacorporation, and I long ago stopped keeping track of who bought out who, but as far as I know, it's still…OK (like, not like Facebook). And it's downright depressing/futile to browse a small-town bookstore if you're looking for specific titles (of course, they can always order in, so I do it myself instead).
Anyhow, the few titles (selected from a long list of must-reads): The Complete Vegetable & Herb Gardener: A Guide to Growing Your Garden Organically (based on a recommendation), The Omnivore's Dilemma: A Natural History of Four Meals (finally…eek! :), The Art of Simple Food: Notes, Lessons, and Recipes from a Delicious Revolution (hmm, high hopes for this one, based largely on a Charlie Rose PBS (US public TV) interview with author Alice Waters; I WILL cook more, but we'll see if this helps…), Micro Eco-Farming: Prospering from Backyard to Small Acreage in Partnership with the Earth (I have NO IDEA how this came to the long list, I forget, but I did mark it with a bunch of stars…). And then there's the Linux Pocket Guide, 'cause with blogs and web sites, like tiny farms, it's usually best to know your way around the territory…
Off to start some rosemary really late, and read!