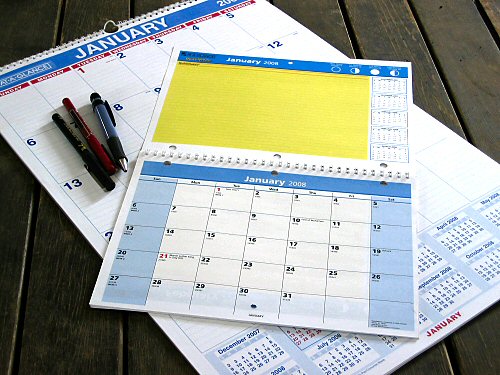 I got these about six weeks ago, when the selection was good (because, just any calendar will not do!). Today, I busted them out of their plastic. It's only three weeks to the new year, the Holidays will vanish in a blur as they always do… I don't know if it's the new extra focus that comes from garden BLOGGING, this year's extended Real Winter, Garden Season SIX coming up, or merely some planetary alignment thing (or…something else), but I am really, well, unusually EDGY and wanting to get started… Hmmm. Anyhow, the calendars…
It comes down to record-keeping. You read about all kinds of intense systems of garden notes and, from market gardeners, intricate planting schedules distilled from reams of precise planting data. I started out with all that in mind, recording every crop and variety by planting date on a map, and meticulously noting all the action in a pocket notebook (use waterproof ink, field notebooks in your pocket inevitably get SOAKED…forgotten in the laundry or otherwise!). This note-taking activity would trail off a bit as the season got underway, and more so over the years…
Now, I'm a minimalist when it comes to records, and this season's system is the simplest yet. Almost everything worth noting goes into these two fabulously FRESH calendars. And there they are! Like the new seed catalogs, for me, new calendars in December hold all the promise of things to come…!
Details! Well, these aren't just any calendars, they're At-A-Glance brand calendars. Like any other tool, when you find the right one, nothing else will do.
I've examined and tried all kinds of free and commercial calendars (and notebooks, and journals…) and there's always been something missing, something slightly WRONG. Then I discovered the large-format AAG, which I've been using for the past three years. It is…just right. I tend to get distracted and a little messy when it comes to field notes as the season progresses, and a simple thing like not having enough space to write in can throw things off. The AAG large wall calendar gives me ample, uncluttered room for every day of the week, and a crisp, matt surface to write on. And it doesn't get lost. I hang a pen on twine from the same nail and it's set. Perfect!
The little AAG I found this year. It's the ideal companion to the wall calendar, the missing link. It even has the monthly moon phases, which I used to fill in by hand on the big one (planting by moon cycles is somehow always at the back of my mind…). The little one replaces scraps of paper and various notebooks for jotting down field work hours, market and stand sales, and the like. It's more "business", while the wall model holds the field stuff: planting and harvest dates, mowing, rainfall and other weather notes, a very few other basics like gas can refills, repairs and the like, plus upcoming events and various due dates. Easy! Whenever possible, I use a black pen for notes, red to highlight future stuff, and a mechanical pencil to pencil things in.
Bonus: For the small mountain of annual organic certification paperwork, the calendar format is a ready-made chronological log (They really insist on one…!).
So there you have it! A straightforward, impossible-to-lose place for everything usually keeps me on track, and this two-calendar system certainly ought to do it. ;)