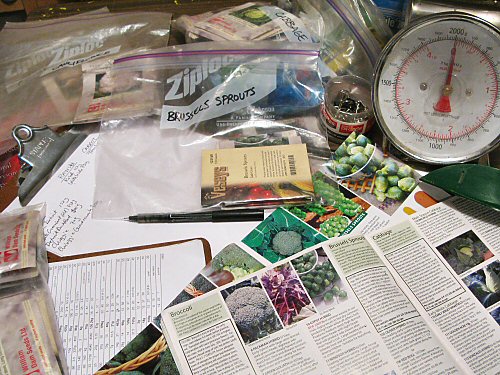 Five hours and done! This year's main seed order was a first: finished in one session! Usually, it takes two. My head was starting to spin a little, but I felt COMPELLED by the late date to keep going (although I don't think I've ever been much earlier, I always just plan to be). Guess I'm getting…better. A small order went in a while ago, for early starters like onions. This is all the rest!
It's a comfortably familiar routine. I cleared an end of a work table and set things out. A couple of clipboards, one with the always-handy, slightly magical  seed calculator sheet. Catalogs from the main two seed houses I use. A scale for weighing heavier seed, and seed in larger quantities. A seed scoop for checking what's left in packets (pour out, pour back!). Tiny (3/4″/19mm) bulldog clips, great for clipping together packets. And sitting by the table, three Rubbermaid bins that hold the precious seed inventory in freezer-weight ziploc storage bags.
First, I weighed the bulkier stuff: beans, peas, larger quantites of beets, radish, and so on, stored in their own bags. Then, I settled in, going through ziplocs, more or less alphabetically, from arugula to tomatoes. See what's left, decide what more I need. Check the catalogs, try not to go wild with extra packets of stuff, "just to try"—the amount of seed needed per veggie is already worked out on that calculator sheet. A few of the ziploc bags have only a couple of packets of seed, each a different variety, like the Brussels sprouts in the pic. Most have 10-20. Tomatoes are getting near 200. It's a lot to go through, but it's like hooking up again with old friends. Easy. Fun. And I'm done!