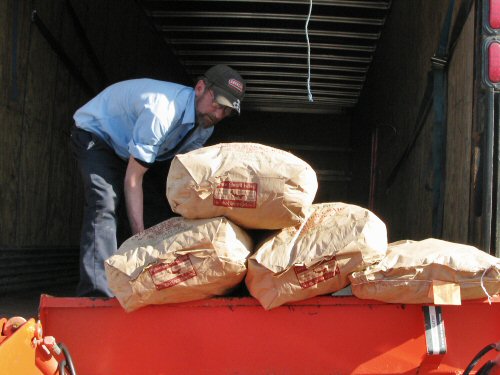 Seed potatoes arrived today, all the way from tiny PEI (Canada's potato province!). It's still difficult to find certified organic potato stock, especially in more-than-home-garden-less-than-big-farm quantities, so it's back to Veseys for another 300 super-expensive pounds, from 1,000 miles (1,600 km) away. Not too local, but that's part of the certified organic game, finding seed… This year, the delivery charge upped the price by 60%—it's expensive to truck stuff.
Unloading. The lane to the barn is narrow, has an obstructive tree right beside a slight but critical bend, slopes upwards, and falls off on one side—big trucks don't even try to get in. We have to unload at the side of the not-too-busy 2-lane secondary road. Once again, the Kubota compact tractor makes up the difference, this time standing in as a forklift replacement.
Transport trucks it seems often don't have elevating tailgates that can handle weight, they're set up for forklift loading, so if you don't have a handy farm forklift, you have to unstrap the pallet and hand-bomb everything off by the piece. The truck drivers are usually really helpful. This was just six 50lb sacks, two each of Penta (like Yukon Gold), Chieftain (red), and Gold Rush (russet-type), so we're done in no time!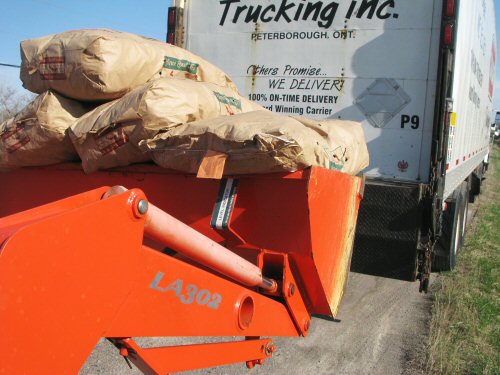 Machines can communicate: See ya!