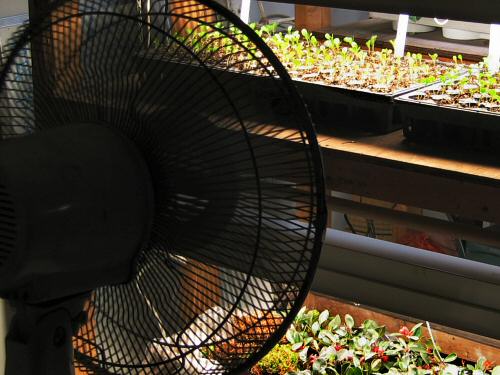 The fan is oscillating and the grow racks are slowly filling up. Parsley—curly and flat-leaf—are underway, and there's more lettuce and some herbs…
Fanning the seedlings is particularly satisfying because it does a lot for such a simple thing. I forget where I heard about it, probably from a book, and I've been doing it since Year 1 or 2.
The idea is that plants develop differently when they have to deal with wind, or rain, or otherwise being pushed about. Seedlings raised indoors lead an extremely sheltered life; providing a bit of a breeze toughens them up, and this sort of mechanical stimulation (brushing is another approach) also encourages stockier growth instead of stretching.
It makes sense to me—seedlings definitely wouldn't be so coddled growing out in the field! There's even a term for this: thigmomorphogenesis! While hunting down the word, I found an interesting article about mechanical stimulation of seedlings as well (and here's another).
I don't follow a particular schedule, just give 'em at least an hour or two a day, sometimes more, turn the fan on and move it around every once in a while (I also make sure the seedlings are properly watered, since wind is great for drying out plants).
All in all, it's easy, sounds good, hasn't hurt! The fanning also dries the soil surface, which helps prevent damping-off, so you can't lose!