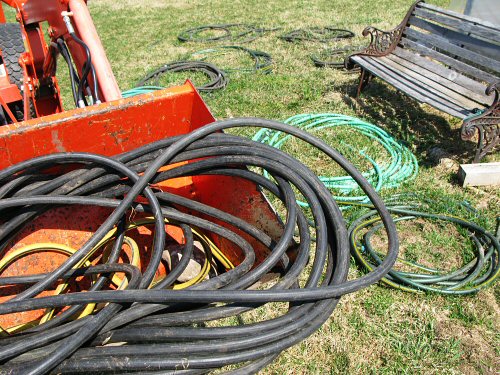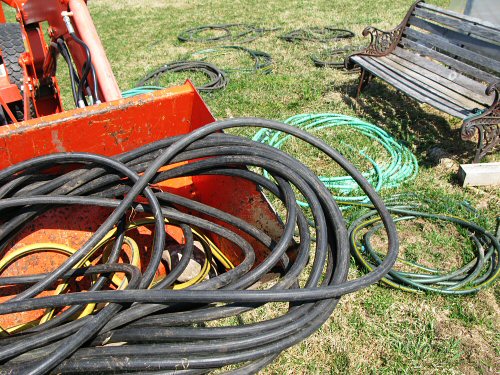 In smaller gardens (tinier farms!), hoses are generally a fact of life. In spring, it's time to uncoil them all, check the fittings, and get set to deliver water largely by hand.
On BIG veggie farms, "hoses" are usually big pipes (3″/7.5cm and up), part of full-blown irrigation systems that suck up and spew MILLIONS of liters of water a season. Here on this tiny farm, we're way closer to the garden hose end of the scale.
Our irrigation system is a work in progress. Drip tape is the ultimate goal, but there are obstacles to work around, like the limited water available from the barn well, and the distance to and lack of electricity at the spring-fed pond. Right now, watering is about regular 5/8″ hoses, fed by a 1″ plastic pipe that runs from the barn well to the pond located WAY at the other end of the field, with taps at 100′ intervals.
Actual watering is done with a combination of soaker hoses, sprinklers when there's no wind, and various hand nozzles for watering in newly seeded beds. Quick connectors are a major convenience when hooking up the various combos of multiple hoses and other attachments. I try to find a balance between not too many hoses, because you can't leave them lying around, and not so few that you're moving the same rig all over the plot.
Accidentally tilling hoses that were left snaking around instead of being promptly put away has turned into a not absolutely rare occurrence, and a time-waster (untangling and splicing takes more than a minute). Just put away that 300′ of hose plus 500′ of soaker hose when you're done! ;)
Spot irrigation with hoses on two acres is a bit tedious, but like everything else, you do get used to it, it's part of the routine, and it gets the job done, which is satisfying in the end…
That's the state of the watering art around here as we head into a new season, and I'm promising myself advances on the drip side of things. Of course, it could happen to rain all the time, about an inch (2.5cm) once a week would be fine, and then hoses would largely vanish from the garden landscape. That's not at all that likely (and when it's a really rainy year, you wish for hot, sunny hose weather), but…YOU NEVER KNOW!