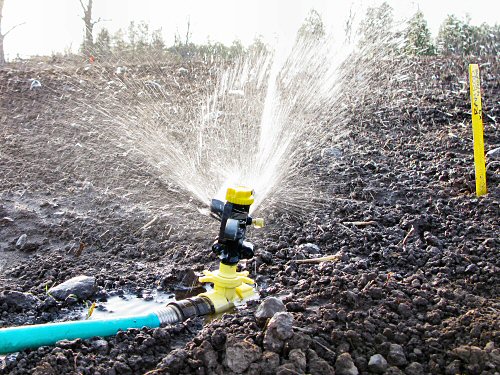 It's like we've gone directly from winter to summer. Less than a WEEK since the ground dried out enough to walk on it and till it, I'm actually out there WATERING… This is really odd.
I'm sure we've had unseasonably hot Aprils before, where watering in newly seeded crops was necessary, still, it's only common sense to chalk this up as another of the consistently bizarre weather events we've been having in the last three years or so… In other words: global warming, I guess.
"Normally," April is a good month once it warms up, because our rather heavy clay-loam soil holds moisture well, and just post-snow, it's wet enough that you don't have to water in what you've seeded. A spring bonus!
Instead, what's going on here is, in a handful of days, the top inch or more of the ground has dried out completely in the unusual heat. That means shallowly-sown seed, like spinach, lettuce, radish, beets, and chard, is sitting in perfectly dry soil.
I put in peas at around 1.5″ (4.25cm), and they were just barely in nice, moist earth. But these other guys, what can I do?
I considered setting the seeder deeper, but that could just bury them too far for good, quick germination (I've messed around with too deep before…).
Or, out with the sprinkler.
I don't like using sprinklers, I don't have water to waste, but here, it's much the more reasonable alternative to hand-watering a 50'x100′ area, when there's so much else to do.
The pond irrigation isn't yet set up, so the water's coming from the barn well, where there's such low pressure that only the cheapest, most lightweight garden sprinkler will oscillate, where better quality, heavier duty ones shoot a stream of water straight ahead and won't budge.
Irrigation comes early, and cheap gear is every once in a while…good!