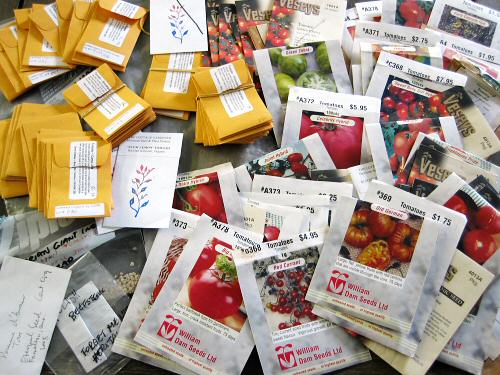 It's sounds a little odd to call it that, but this is my tomato seed collection. A rough count says there are maybe 150 packets, with another 30 on the way with the just-completed all-heirloom tomato seed order. I'll get a few more basics, like Juliet, in the last big general seed order, and that'll be it for the season.
Most of these are different cultivars, there are only a few…doubles. The brown envelopes are heirlooms from a small seed company. The printed packets are mostly hybrids, from my two main seed suppliers. The plastic pouches and plainer white envelopes are various seed given to me to try (I'll generally only accept seed from trusted sources, people who actually garden and seed-save, to avoid…disease).
Why so much, so many? I dunno. I don't think of any other veggies in my seed supply as "collections" (like trading cards or tiny action figures). I do clearly remember looking closely at a fuzzy little tomato seed back in Year 1, about to start my first transplants, and thinking, "No way is this little thing is going to turn into a massive tomato plant with 20 lbs of big, fat tomatoes?!" (At that point, all I knew was what I'd read and seen in pictures.) It wasn't so much disbelief in the powers of the seed, but in my ability to actually manage this obviously intense process—what a tiny seed!—to a reliable, predictable harvest.
Of course, once you've watched seeds grow into plants, it becomes…normal: clear the way a bit, and the plants do most of the work! Still, having imprinted themselves on my consciousness FIRST, right at my gardening start, I guess tomatoes have a mild hold on me, and I obsessively plant a few more different varieties every year.
This year, there may be a more manageable 40 varieties (down from over 60 a couple years back). I haven't finished the starting line-up yet.