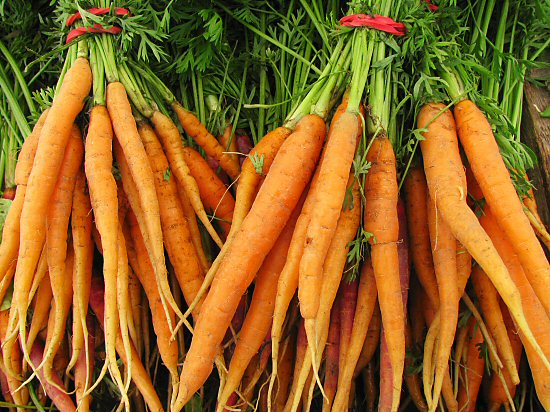 You can't go wrong with baby carrots, it seems. They are, well, cute (I've heard people say that way more than once). So you can buy them and eat them, or maybe stick 'em in a clear vase full of water for a while (idea!)… In any case, these Nelson carrots are not only fun to look at, and small, they're pretty tasty! Nice crunch, and good sweetness for summer. Because of the kinda slow-growth in this cloudy weather, we took the time to do a second carrot thinning, just to harvest these (often, at this point, they'd be bigger, and we'd start digging up whole rows).
Also along for the ride, and sold out quite early, baby beets, mostly the candy-striped Chioggia (below), with a few red Kestrel in there. And, a couple of varieties of lettuce, the super-red Granada oakleaf and the butterhead Kendo. Both have a strong, bold taste, able to hold their own in sandwiches or…anywhere else. Plus, not in sight, all-lettuce mesclun (well, baby leaf mix).
Along with the last of the Sugar Ann snap peas, that was it for a fairly rainy, kinda rained-out Saturday at the farmers' market… Still, fun!