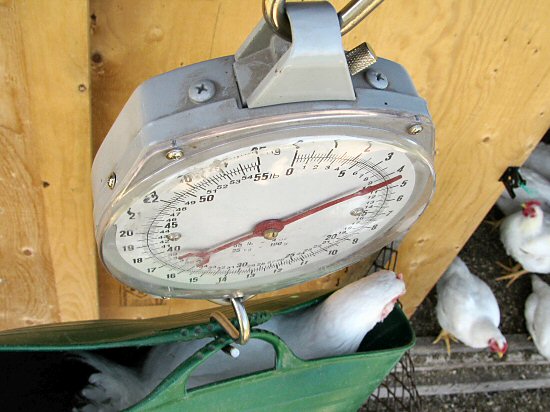 Booked a chicken processing date today: slaughterhouse day is July 29. They've been looking good all along, but suddenly, the White Rocks are seeming especially mighty tasty. I keep remembering one of them hurrying by with a long worm trailing from his beak, then quickly slurping it down. The last batch was raised just on feed, but these guys have foraged for a varied diet, literally free-ranging (no fence!) for most of their lives. Along with feed. Should be a delicious combo.
On this, only my second flock of meat birds, I've noticed a new feeling for food animals. The first round was a novelty and a learning experience, now, it's a comfortable routine. I observe the chickens…appreciatively. I like them, talk to them (although, not about much), hang out with them when I have time, but I also clearly see their demise and transformation into FOOD as I  look out for their comfort, well-being, cheerfulness every day. No pet-based sentimentality, instead I am grateful. The I-raise-you-then-eat-you feeling may sound harsh, but it feels…natural.
Weighed a few for the first time today, using a hanging scale and a trug (flexible plastic utility bucket). This can-do set-up works just fine for spot checks. With the handles pulled together, the top of the trug is pretty well closed, so the chicken inside tends to sit still for a while before starting to look around…
At 9 weeks, most of them are around 7-8 lbs (3.6 kg). About 6-8 of the 39, like the one in the pic, are visibly a little smaller: they're around 6 lbs (if you're checking the scale in the pic, the outter measure is kgs, inner is lbs, and the trug = 2 lbs). Overall, that seems good! According to the hatchery catalog, the White Rock average is 6.3 lbs (2.7 kg) at 7 weeks, and that I assume is confined with constant feed. These guys are out and about—exercising—and I let the feed empty for 4-5 hours every day, so the lighter weight seems to make sense. A couple more weeks and they should be suitably White-Rock-plump, still healthy and happy, and…supertasty!