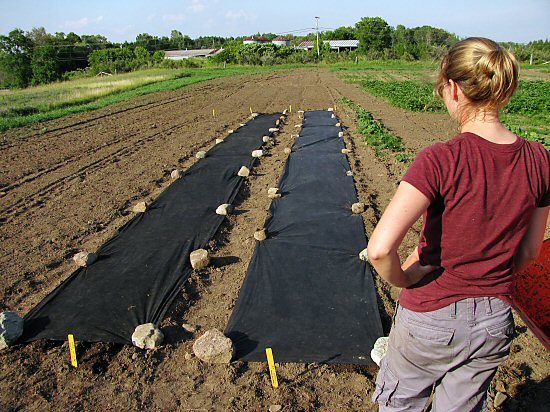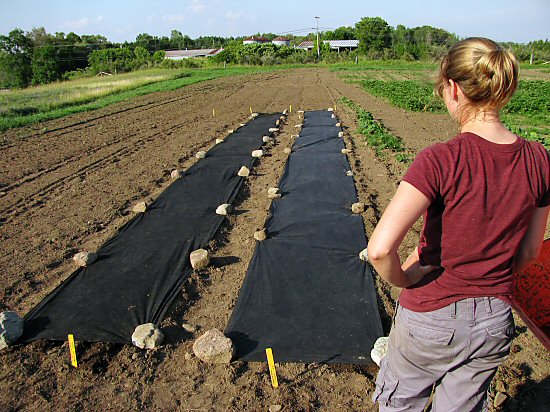 Here's one of the more extreme displays of crazily labor-intensive tiny farming technique. Andie surveys our work, the result of deciding to try landscape fabric in place of burlap to help carrot seed germination. It's actually a double experiment, because one of the beds is green onions.
The burlap method has been the way to start carrots around here for the last two seasons: tried and true. The main purpose is to preserve moisture in the seed drills, and the increase in heat helps as well.
After a good run, the first round of burlap expired, and I couldn't find rolls of it in time for this season (I know it's out there, somewhere). But, I spotted this gear, landscape fabric, a porous plastic mulch used to permanently suppress weeds in…landscaping. It's light, and just wide enough (3'/30 cm) to cover 4 rows of carrots (that's a little closer than usual for the bunching onions). I tried it on two beds earlier in the season, and it works fine!
One little problem: it tears easily, so how to hold it down? With the burlap, we made wire staples out of heavy gauge wire. Here, we placed a LOT of heavy rocks, close enough together that there's no room for the wind to get under and start really pulling. This does the trick for now, but overall, it's a little TOO intense. The hunt for burlap: still on!