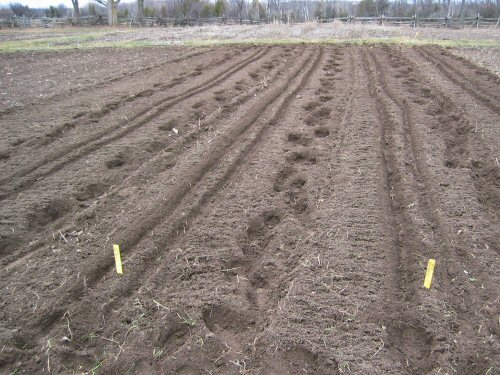 O the excitement and satisfaction. The first 400′ of snap peas (Sugar Ann) are in! This is the first seed to hit the field this year!!
It's a low-risk gamble for two-three extra early bushels for the market. With over a week of cold days, subzero nights and even snow ahead till mid-month, the peas may germinate unevenly, and there's little more annoying and unproductive than picking a not-dense-enough pea planting (you pick forever to get relatively little).
Last year, I seeded out this early with two varieties, and neither worked out as well as the next seeding 10 days later.
Here you see the results of my current bed marking technique: using a 100′ reel-type measuring tape, I mark the path centers on both ends with a label stake, walk 'em out, and pull up the stakes. Presto!
These beds are 4-1/2′ wide. The spacing between the double rows is a little wide to what I usually do (4-5″), but the freshly tilled soil made maneuvering the Earthway seeder close to the first row difficult (tight double rows for bush peas let the plants support each other and you don't have to weed between).
It'll work out! Delicious edible-pod peas in 60 days?!