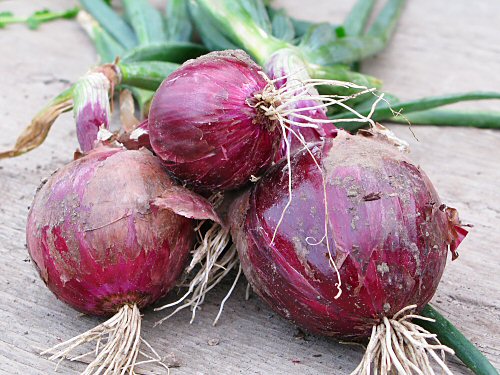 This is the first year I've tried growing onion from seed, and they're doing fine. Today, I pulled up one multi-planting of Red Wing to check 'em out. Multi-planting onions was also a first-time experiment, with 3-4 seedlings transplanted in one spot, at 12″ (30cm) in-row spacing. They've done a good job of pushing themselves apart, they've stayed pretty round, not flattening out where they touched.
Another thing I was a little concerned about didn't come to pass. For around a month, the onion seedlings had already been under the usual 14-16 hours a day of fluorescent light on the grow racks, when I read about the possibility of daylength sensitivity at the seedling stage. When the amount of sunlight reaches a certain threshold, over 12 hours or so for long-day varieties, the onions move from leaf growth to producing bulbs. A couple of sources said that premature bulbing can be triggered by too much light too early on, even at the beginning seedling stage, and you'd end up with tiny, marble-sized onions after a season in the field. Other sources disagreed, but in any case, that didn't happen here! Still, in future, I'll start long-day onions under reduced artificial light…to be safe.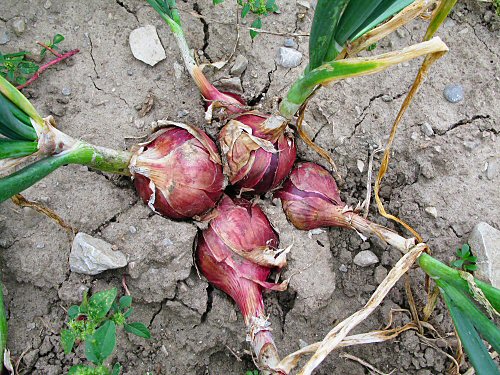 As usual, the cracked surface of our clayey soil looks rougher than it is: it isn't really hard, only a thin, dry layer with moist soil right underneath. Here, four out of five seedlings have pushed apart, rotating the stems outward, and grown into decent-sized…onions!