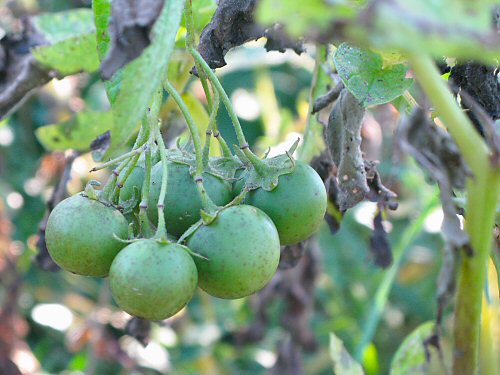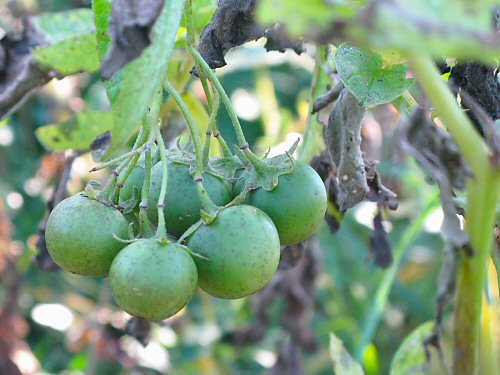 Here's something I haven't seen before in my, uh, six years of growing potatoes: green, tomato-like, walnut-sized potato fruit. Bob hadn't seen 'em either, in 40 plus years of farming. I hit the web for education.
These are genuine fruit, but not that common. Usually, potato flowers just drop off. When fruit do form, they're more likely found on certain varieties, like Yukon Gold. This year, there were fruit on just about every Chieftain plant, here and there on the Kennebec, and none that I noticed on the Yukon Gold…
Each fruit contains 300-500 seeds that don't come true: planting them doesn't result in the same potatoes as the parent plant, there's lots of genetic variation. Potato breeders plant out thousands of seeds, check out the results, then keep replanting the most desirable potatoes for many years or generations to get new commercial varieties—apparently, this is the way new potatoes are bred.
Meanwhile, it apparently only takes only two seasons and one generation to breed genetically stable new potatoes, so for the small farm or home garden, as opposed to the big potato breeder, this seems like a viable way to go. Harvest seed one season—you can hand-pollinate to cross two varieties—plant out the next and select your favorites. Those tubers should be stable and ready to go, you just have to build up a quantity, which takes another season, unless you need hardly any at all!
And, the fruit are poisonous, rich in solanine, not for eating. Potatoes, tomatoes, peppers, eggplant and tobacco are all members of the "deadly nightshade" family, all prone to having toxic parts (potato fruit are somewhat similar to little, hard green tomatoes). Interesting! Since they suddenly appeared this year on two varieties, I'd guess it was about the weather!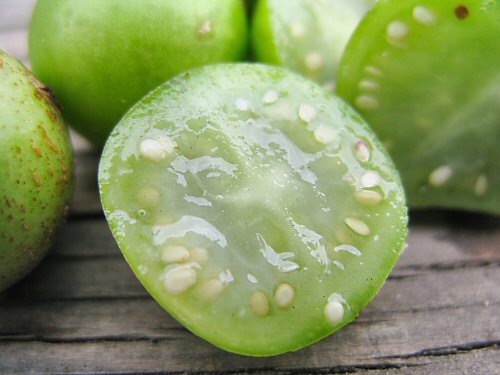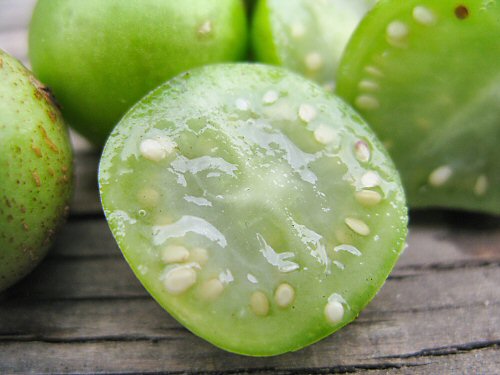 Since this is such a popular post, being dug up over and over via Google, I've started to update the article as I discover more. I'm not marking the changes. This is unusual. In general, I don't edit old blog posts, and clearly mark the updates when I do!