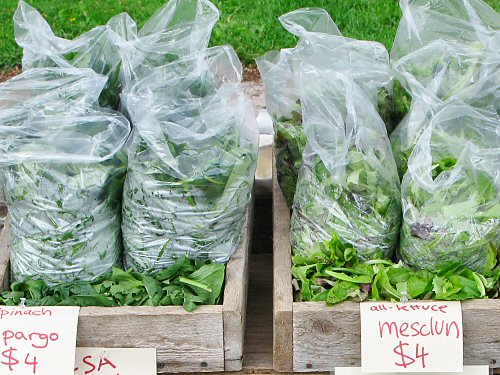 At the market today, greens were finally in great supply, with loads of mesclun and spinach: two giant, clear leaf bags full of each. I went home with quite a bit—no sold out sign this week!—which was great, 'cause I was selling right up to the end. And, as usual, I noticed all of the disposable plastic involved…
Greens, and market/CSA share harvests in general, usually involve lots of PLASTIC BAGS. In the beginning, this didn't overly concern me on any level, other than that buying bags by the hundreds and thousands was kinda costly. But being on the dispensing side of this steady stream of plastic gradually made me realize how much of it is continuously being tossed out there FOR NO LASTING PURPOSE.
What got to me first wasn't the environmental issue, but the fact that people were profiting off of this useless mass consumer habit of taking tons of "free" bags at every stop… Don't like being fooled again and again… This culminated in one way for me about two years ago, when I stopped taking shopping bags for, like, 98% of my store shopping. Last year, I started cutting down on the way I offer shopping bags at the market: instead of automatically grabbing a bag for a customer as I asked if they needed one, I ask in a  leading way, kinda eying what they're carrying already—not surprisingly, with all of the anti-plastic bag attention lately, the majority of people so far this year bring a basket or cart, or fit their purchases into a bag they already have.
I mean, to grow greens, it takes 40-60 days of watching, watering, weeding…and suddenly, in less than 24 hours, they're harvested, bagged, distributed, and, hopefully, within another 2-3 days, EATEN. And the really useful life of the plastic in a bag of fresh-market greens is more like a very few hours, because once you've gotten your greens home, there are many more efficient ways to refrigerate them (like in a nice cotton bag, in a salad spinner, in a big bin,…). But there's nothing that easily replaces the convenience of plastic for that last little trip between stand and home (a couple of people have asked that everything, greens and all, be tossed loose into their own shopping tote, which is kinda cool and should work no problem, but doesn't sound too easy to encourage amongst ALL…).
So what am I getting at exactly, besides the OBVIOUS? Well, I guess it's that plastic is curiously useful stuff, I'm not about to outright REJECT it in all its many handy shapes and forms, but I should learn more about it for a start… More as it unfolds! ;)