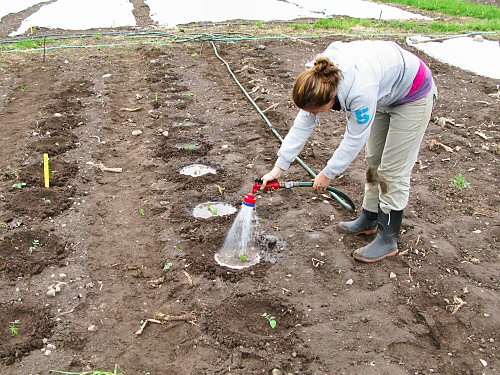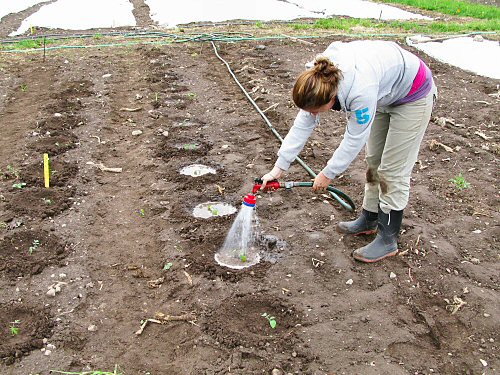 The spring rush is over, and fieldwork is shifting into summer mode, from mainly planting to mainly weeding and watering, and then, HARVESTING. Seedlings for the most important crops and varieties are in, although there's still quite a lot to transplant.
Here, we've just finishing another 100 or so tomatoes, with Lynn watering them in (the Redhead water breaker is GREAT, delivers as much water as you've got pressure, while softening the flow so that you're not smashing or burying the seedlings). Creating a little basin around each seedling makes the most of hand watering in.
In my continuing experiment with shortening seedling production time, these are the youngest toms to go out ever, a third set started at the beginning of May, with their first true leaves now just coming in!
There are also more squash, melons, and a few more toms to transplant—in years past, I'd've been concerned about the date, but I'm learning to adapt the season's resources (time, people, irrigation capacity,…) to the WEATHER.
Keep the workflow balanced is my new first mantra, so we also spent a few hours weeding today (Ryan dropped by to help for a few hours, he's a new CSA-er this year who is also about to move his family to their own tiny farm at the end June!), instead of rushing on the last transplants.
It's hard to measure, but for this type of small, diverse market gardening, in this time of extreme weather, things quite often don't work out as they traditionally should. For example, the recent rain and cold, and now, more heat, have created a situation where the dominant weeds—pigweed, mallow, and lamb's quarters—are seemingly slow, but are in fact about to explode. Weeding now will probably save way more time and deliver more harvest than putting off weeding just to transplant a few more beds a few days earlier.
I dunno, I'm figuring this out as I go, but I think traditonal garden rules and timing have to be increasingly bent as the weather gets crazier… I guess you could say: EXCITING TIMES! :)