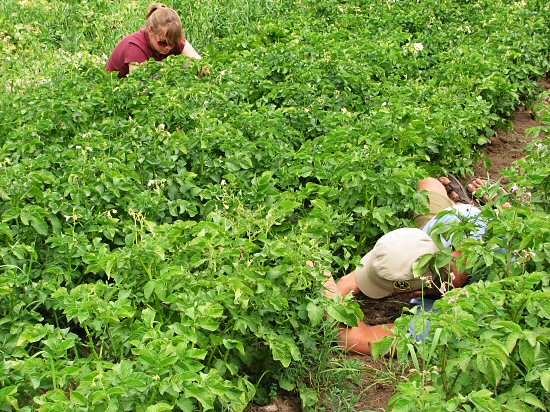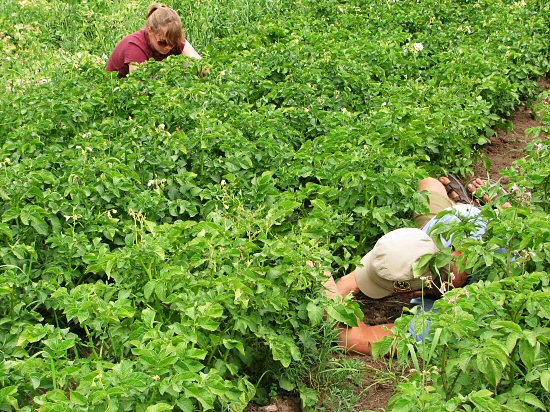 Another installment in the crazily labor-intensive tiny farming techniques series: Andie and Jordan in action, hand-digging for new potatoes without uprooting the plants! This one is hard to top for stunningly low hours-to-yield ratio. It makes picking peas and beans seem like something that goes by quick. Of course, for all its slowness, it has its rewards: beautiful little, amazingly fresh and tasty, new potatoes…and the plants still get to grow some more! Plus, if you don't have to do it forever, it's a lot of fun…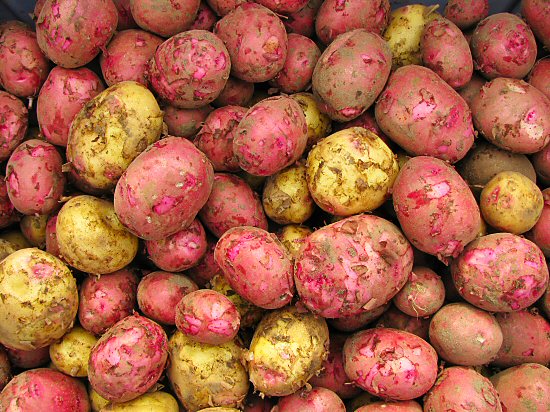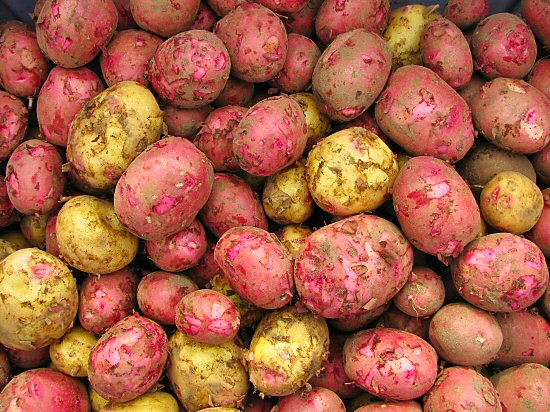 The "technique" is simple (and well-suited to the home veggie garden, but not too scalable). Gently feel around the base of the plant for anything that's golf ball-sized or bigger (this batch is golf ball to XL egg). Stick to the surface, don't dig too deep, and try not to break the single roots connected to other, littler, potatoes (you'll easily feel the stringy roots). When you're done, hill up the earth you've moved aside, and it's on to the next one. That's our method. ;)
Yield today was pretty good, about 2-3 per plant, and about 40 lbs (18kg) in all. Won't go into the time per plant and the weight per tater…because I didn't. Maybe a peaceful hour or so, with three people. We only did this for a CSA share treat, because today it worked out that we had the time. There are red skin/white flesh Chieftan, and yellow-flesh, Yukon Gold-like Penta.
The only downside to the hand scrabbling method: the delicious, delicate skins get quite roughed up. We'll soon start pulling whole plants for young potatoes, and that tends to leave the skins in better shape (and goes MUCH faster).
Anyhow, slow food, for sure. Tasty!