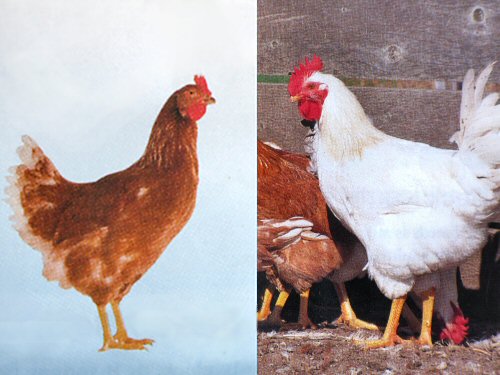 Chickens are on the way! On the left, a reportedly prolific brown egg producer, the Shaver Red Sex-Link. On the right, the reputedly hardy, healthy Frey's Special Dual Purpose as our meat bird.
I almost broke a pretty basic rule on this one—get your questions answered first!—and ordered White Rock Cornish X for meat. Chatting with Bob, we'd decided on the Frey's Special, but at the last minute—on the phone ordering them from the feed store—I asked about the Frey's, and was told that "99%" of the small quantity meat birds were "White Rock" (meaning WR Cornish X), that people were often disappointed with the dual purpose for meat, that for meat, White Rock is the way to go. White Rock! White Rock!
So I got off the phone, and did some quick extra research. Talked to Bob again, who said the thousands of meat chickens he's raised were all White Rock, BUT, they have to stay indoors, WR just stand around and EAT, which is why he thought Frey's would be better for outdoors.
Next, hit the Web, and found stories of people successfully free-ranging WRs, even in the heat. BUT, they also said things like: "They did wander around a lot but nothing like the regular birds. They did all the normal bird things just a whole lot less gracefully. Only thing they couldn't do was perch or fly." Hmmm…
Which took me back to the original stuff I'd read in the hatchery catalog, things like: "Unfortunately, the White Rock's increased efficiency at feed conversion has not been matched by improvements in the bird's cardiovascular system. Simply put, too often the bird's heart just can't keep up with the rest of its body." Yikes… Hello flip-over disease (aka Sudden Death Syndrome, aka…heart attacks), which tends to afflict the biggest, healthiest birds… And there's lots more disease warnings, feeding restrictions, general strict instructions… Extremely fast-growing meat chickens, no doubt, and I'll probably try some…later, but too weird for now…
For good measure, I got through to the Frey's hatchery. The woman on the phone was great. She said most people just want to produce meat quick and go for the WRs, and they may do OK free-ranging, but really, they've been bred for rapid growth in a controlled broiler barn environment, AND, for a hardy, free-ranging, TASTY meat bird, dual purpose are great, friends of hers raise the Frey's Special and love 'em. So Frey's Special Dual Purpose it is, more traditional chickens that grow a little slower and weigh a little less, but can actually have fun, run around, eat insects, scratch in the dirt, and won't…flip over! There are 50 2-week Frey's Special cockerels coming either April 16 or 30, and 25 ready-to-lay Red Sex-Link on June 23.
Entering the world of CHICKENS, I'm excited!
(UPDATE: After writing this post, I read the comments below, did some more online reading, and switched the order to 40 White Rock Cornish X and 10 Frey's Special…)
(UPDATE 2: It's a year and a half later, and we recently processed a second flock of White Rocks. My original last-minute double-switch to White Rocks was a good one. I still want to raise other breeds, but you absolutely can keep healthy, free-ranging WRs, and they do get to a good size!)