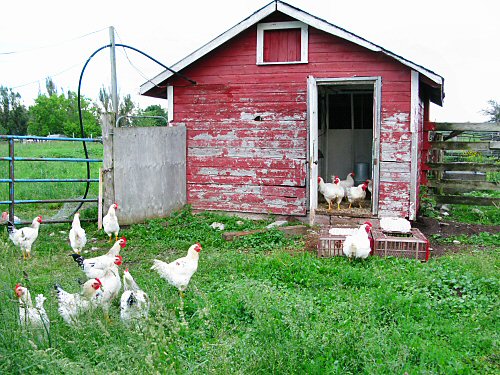 Raising your first chickens, killing them, and eating them has gotta rank up there with other Firsts worth a little attention. Now, I'm at least part of the way there: the killing this time was done behind closed doors, with me on the outside—chicken PROCESSING. Still, first enough to be worth a few photos… I'd been cutting it close with booking a processing day for the White Rocks, the local processor is known to get solidly booked for weeks. I finally called yesterday, looking for a date in two weeks, and was told there was also a cancellation for tomorrow (today!). I checked out the WRs, and, man, how could I imagine them getting any bigger (I think I was mesmerized, waiting for them to explode)? So I called back and booked. We drove over last night to pick up crates (20 minutes each way), then it was up at 5:30 this morning to load 'em. As soon as I opened the door, all of the Frey's dual purpose darted out immediately, as usual, while the WRs, who mostly go nowhere, stayed in: it was kinda fitting that the Frey's stood around in unfenced-in freedom, ready to run (and they would've!), while the WRs kinda dumbly looked out at their crates (above).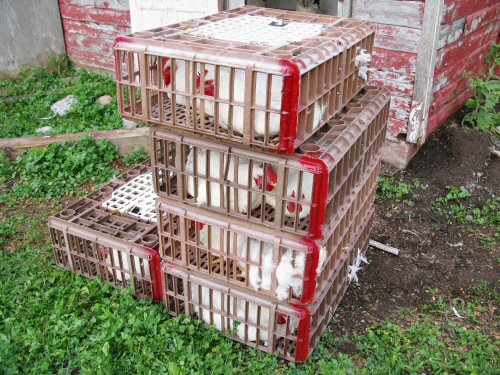 Five to a crate, 25 in all, 30 minutes or so to loaded…no need to chase down these lumbering beasts (while I was packing, most of the Frey's figured out no good was afoot and entirely disappeared around the other side of the chickenhouse, something they'd never done before, while a couple stayed to watch).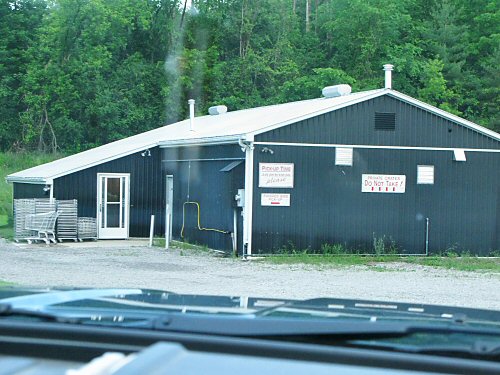 The processor is on a farm, a low building where birds go in live on one side, and come out the other, cleaned and chilled, weighed and government-inspected, ready to go…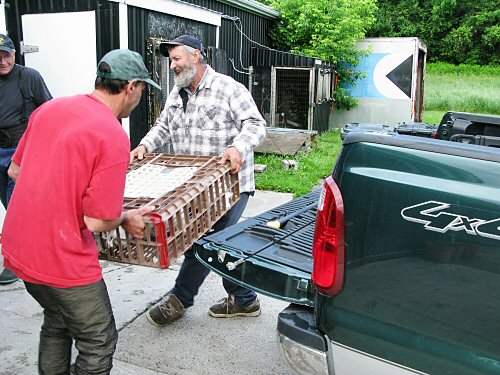 Bob and a processing guy unload. It's 6:45am. The paperwork is quick and painless, I didn't even have to write or sign anything. The only sign of bureaucracy in action is the required chicken purchase number, a serial number that's on the form that you fill out when purchasing the chicks. And the on-premises government inspector popped out and did a little of his own paperwork. Other than that, just processing choices. For a few cents more (like 75-85), you can have the chickens halved and put in separate bags, or halved or quartered in the same bag. We got 10 halved and separated, for when cooking a whole fat chicken would be a little too much. Modern conveniences?! :) I also chose to get the organs back (in the black bag; below).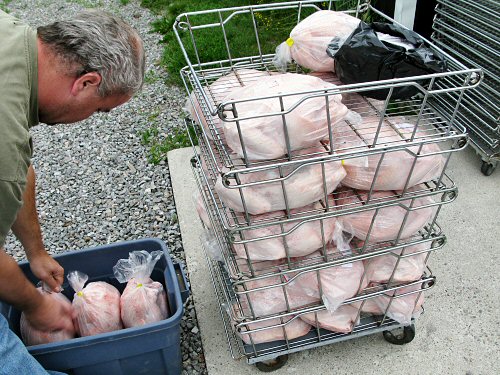 Eleven hours later, it's 5:30pm and we're back. Matthew helps pack the big birds for the trip home and into the freezer. Average weight is around 8lbs (3.6kg), where the Frey's are maybe barely 3lbs. Hmmm… Not the most satisfying little adventure, with three 40-minute round trip drives, and the chickens disappearing through yet another middleman, reappearing neatly packaged for $3 more… With the processing fee tacked on for good measure, these are EXPENSIVE chickens, but I'll do the math, and review the overall, somewhat unsettling White Rock Experience…later. On the other hand, you can't beat the results: a lotta REALLY plump chickens! Next up in Meat Birds, Take 1: waiting for the free-ranging Frey's to bulk up, and THEN it'll be a fully DIY field-to-table chicken dinner!