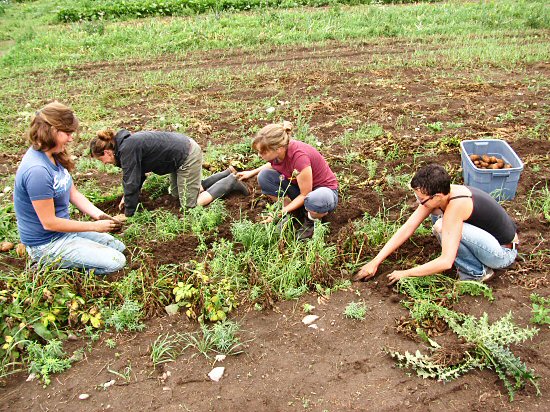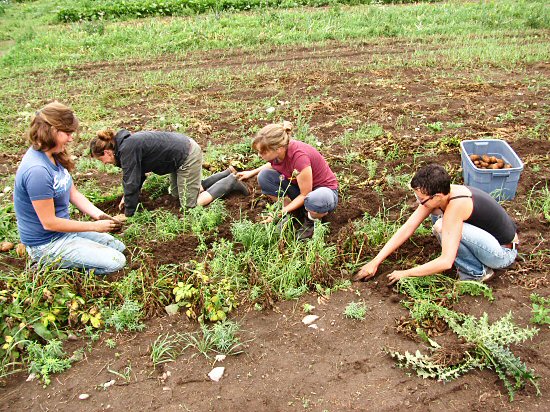 It'll be hard to top THIS one for extremely labor-intensive tiny farming involving lots of peeps! Here, Libby, Lynn, Andie, and Mel hand-dig potatoes for tomorrow's farmers' market. The taters happen to be Gold Rush russets, and they're in fine form, with a little wireworm damage (surface blemishes or tiny holes) to only a few. We're right at the end of the first (of three) potato areas of this year, 600′ (183 m), evenly divided between Penta, Chieftan and Gold Rush.
So, what's with all these people, digging together in a cluster, with just one bin? A little inefficient, pehaps? Well, not really. When there's a lot of folks happy to mix it up with the dirt, tackling a single task all together can work out! We only needed about 70 lbs of each variety (that blue bin full). With the moist-but-not-mucky soil, pulling plants and scrabbling around was quick and easy. BIG POTATOES helped. Working close together wasn't a problem because we had so little area to cover. Each bin got filled in maybe 15 minutes. Satisfying!
In the photo, you can also see how relatively good shape we're in with weeds. The bit of grass growing back is in separate clumps, all the runners haven't started to reach out and hook up. Further up is a section of more heavily overgrown onions. But that's actually doing well as well: the onions were thoroughly weeded twice, and hoed a couple more times, so what you see is mainly grass from the last three weeks (without much shading out from the onion plants, everything else grows fast!).
Anyhow, when we tackle the main potato patch, around 2,000′ (609 m), methods will change. But we'll still be digging in the dirt…!