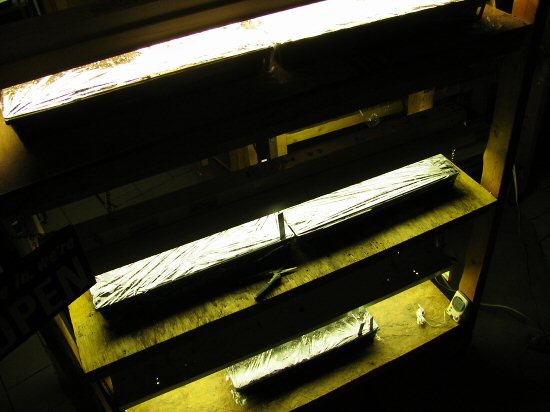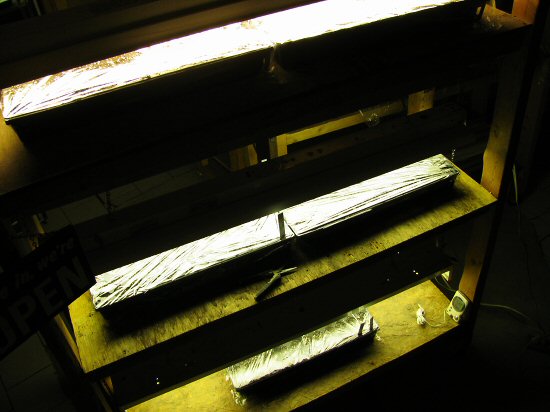 I'm sure I've taken this photo before, but somehow, it's still new—the first transplants of the season! This is the look of 1,440 onions, starting out. These are 72-cell plug sheets, and the plan is to multi-plant four onions in each spot. Do a little multiplication—5 trays, 72 cells, 4 onions per—and the results are clear. Whether things will turn out exactly like this, perfect bushels of Red Globe red and Utah sweet Spanish, is anybody's guess, but I'm quite confident we will get…something! :)
All the usual tools and methods for this tiny farm are back for another run. There are still at least a couple of years left on the roll of donated food-grade plastic wrap that I use (and re-use for the season) to hold moisture and increase heat, just until the tiny seedlings emerge. To check temperatures in this new seedling room, on the lowest shelf of the light rack, where it's coldest, is one of the minimum/maximum digital recording thermometers. And of course, there are the trusty, home-built light racks themselves, with an assortment of T-12 and T-8 fixtures and Cool White fluorescent tubes, providing the bare minimum of heat and light to get things started.
I'm always up for trying new approaches and new gear, but a lot of the time, if it gets the job done and you're already having fun, what more could you need?!