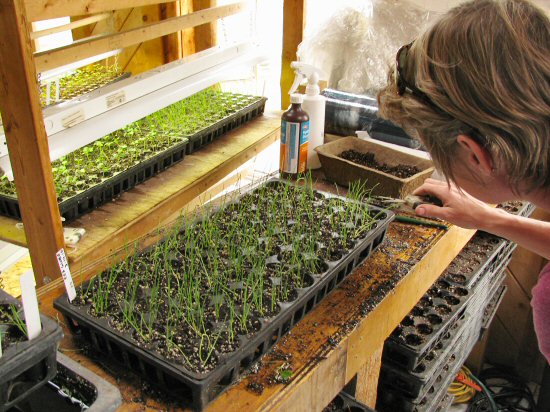 The more things change, the more they stay the same, right? That's how it seems, in a soothingly familiar way, as seed starting 2010 really gets in gear at this new farm location. A little over two weeks since we set up the seedling room, and the fairly intricate task of managing dozens of crops and varieties and thousands of seedlings is on!
It can be a little complicated, keeping track of all the details, but it's also…simple. Kendall, trying her hand at tiny farming-style veggie production for the first time, shows no fear with the sharp, little snips, as she learns about thinning onions (above). We're multiplanting this set of onions, aiming for four per plug sheet cell. Since I used seed from last year—a common rule is that you should get allium (onion family) seed fresh each year to ensure good germination, but why waste?!—we went a little generous in the seeding. Germination was great, and now we need to remove the extras.
Next, Kendall's on to another kinda critical seed-starting task: taking inventory of what exactly we've got going. That means a lot of counting and note-taking, and making sure the markers in the trays don't get pulled out. Below, she tallies some of the 20 or so varieties of sweet and hot peppers that're on for this season. For the new girl, it's business as usual!